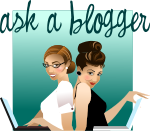 I enjoyed reading Amee's Ask a Blogger post this week.  I too find social media to overtake my time.  It's easy to get distracted by all the ways to chat and share with readers and friends.  Scheduling blocks of time is a great way to keep your time online in check.
I often wonder if social Media is killing my blog. I receive a decent amount of traffic each day from facebook and twitter. In fact I have almost 35k fans combined. The question I have is being active on this mediums is it "killing" my blog. The answer is yes and no. The amount of interest is great but I am having trouble keeping up.
The result is my content has become less personal. I spend so much time interacting with fans and other bloggers on social media that I barely write what I want. I thought I should create a graph to determine where I am spending the majority of time and the majority of my time is hanging out online. I decided I was going to limit my time on social media by giving myself hard stops. I am really social and I love talking to people but I have to get back to business.
Here is what I suggest. I suggest you look at the amount of time you have for the day to devote to your site. Then I would take 10% of that time to network with other bloggers and 10% of that time to chat with your fans. I would take 10% to research something that will help your business grow. That could be reading an article or watching a you tube video or even checking out the competition.
I would spend 10% of your time cleaning up your email box and following up with prospective clients and the final thing before you actually write is you need to evaluate your site does it look right. Do you need to make up dates or change out ads? Then you need to produce content for your site with the remaining 50% of your time. If you do not produce content you will not have a site nor will you have good SEO or a place for people to come. I know it is tempting to "hang" out on twitter and facebook but ask yourself is it paying your bills?
You can search all of our articles by typing in Ask A Blogger.