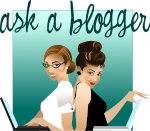 Thanks to Madame Deals for this weeks Ask a Blogger post.
You are excited; you have signed up for your first conference. You have organized the 1 million things in your personal life you need to do before going. It is now time to start thinking like a business person. The number one thing you want to do at these conferences is to build your brand. The next thing you want to do is gather as much knowledge as possible. Lastly,  you want to create action items for yourself.
The first thing I would suggest is get business cards. Tiny Prints has wonderful ones.  I would write notes on the back of the ones you receive to remind you about what you need to follow up with that person about. I would write, "I think this person could teach me about blog design". I would make sure your cards stand out. All the other attendees with be handing out their business cards as well.  The cards I have are in full color and have price matching on the back. I think I am going to get new ones with my picture on them. I know, bold move but I am my brand.  I also say give out your card to anyone breathing, you never know who will promote you.
The next thing you need to do is obtain as much information as possible. I would write down the top three things you want to learn. I would then attend the conference on those topics and seek out the leaders in the areas you are interested in. I had the pleasure to meet several frugal bloggers. I asked the bloggers that I admired questions. I actually learned more about blogging from the actual bloggers than the course work.
The final thing I suggest you do is create action items. I would make sure to write them in a list format. I need to change my host because it is to expensive.  I need to call this person because we are going to work on an article together. I would then make yourself accountable to making the changes you list. If you leave the conference and you do not change what you are currently doing then your trip was not worth the time or money.
I will tell you to pack light the amount of swag you receive is out of control. I then took all the cards from the products and I contacted several of the sponsors. I should have done it sooner, but I didn't think about it. The sponsors want to establish a relationship with bloggers so take their cards and contact them.
Amee was given a gift certificate to purchase my own business cards for letting you know about the wonderful products tiny prints have. I did so willingly because I love their products. The tips above are mine and they work so enjoy!
If you would like to be considered to review business cards fill out this form
HERE.