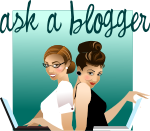 Thanks to Amee with Madame Deals for writing this weeks Ask a Blogger Post!
Where is your blog button? Why isn't it on your front page. The reason is simple – you are on my site why do you need my button? The truth is my reader whom my site is created for does not have a need for my button. I mean, what are they going to do with it? They do not need it so it isn't there. Your site is for your reader. If one of my readers wants my button they can ask for it. If they really want it I have to wonder why?
I run my site by selling ads on my sidebar. I am not a paying customer so my button is not taking up precious Real Estate. I am also careful about where my button appears. I trade my button with bloggers that I respect and like. I advertise on sites that I believe will benefit my business.
Do you really want anyone to come by and just pick up your button and put it on their site? I am careful with my brand and you should be with yours.  Wouldn't you be  embarrassed to have your button on a site that isn't in line with your values.
*The Coupon Challenge has the button on the main page of the website
Not sure how to make a Blog Button?  Find out How to Make a Blog Button with Grab Box.
You can search all of our articles by typing in Ask A Blogger.