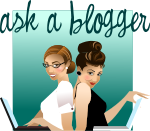 Amee and I have posted a lot about wordpress since we started this series.  We've discussed the cost of moving from a blogger blog to a wordpress blog, our experiences with the move and our experiences with blog design.  This week I wanted to step back and show those of you who have been toying with the idea of moving wordpress how to start writing a post using the somewhat foreign looking dashboard.
1.  Click "Add New" under the "Posts" heading on the left side of your dashboard
2.  Type your post title in the box where it states "Enter Title Here".  The gray lettering will disappear as you type your title.
3.  The next thing you want to do is open the "kitchen sink".  This will open the Extended Toolbar and show more post option buttons such as underlining and adding color to text.
4.  Click the Blue Square, "Toggle Fullscreen Mode," to enlarge your post editor screen and hide all other wordpress options.
5.  If you're familiar with posting in blogger, most of the process will be relatively the same.
6.  Once your post is complete – You can add a category on the right side of the dashboard and select to "Publish" or "Schedule" your completed post.
A trick to posting in wordpress:
A single space between paragraphs – WordPress automatically adds a single space between paragraphs when you hit the "enter" button.  But what if you don't want a space?  You simply hit "shift" and "enter" simultaneously.  This will change your post from:
A post with
A single Space
to:
A post with
No space
In 2 weeks I'll share how to add a hyperlink to a wordpress post and how to add an image.
Watch the video below to get a peak at my wordpress dashboard
(please excuse the microphone static-this was my first ever video!)

Looking for more blogging tips?  Search for Ask a Blogger.