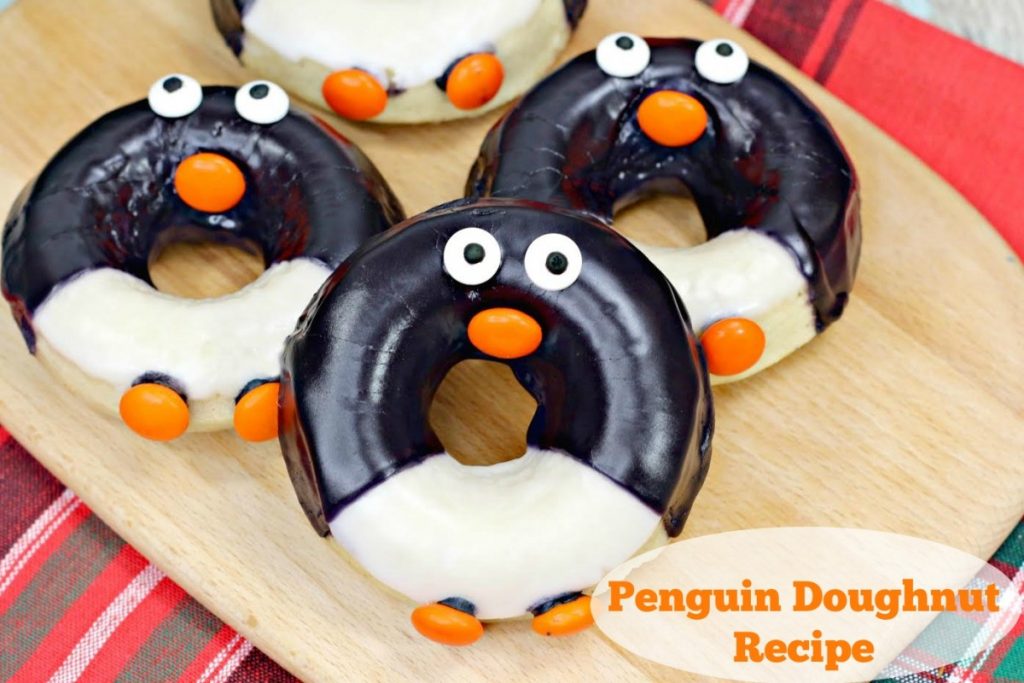 The kids will be begging you to make this adorable Penguin doughnut recipe again and again.  With a bit of work you can take an easy doughnut recipe and turn it into an adorable creation.  You could make a double batch and surprise your children class at school or make something extra special on a Saturday morning.
Please note there are 2 parts to this doughnut recipe.  Below you will find a doughnut ingredient list and set of directions as well as an icing ingredients list an separate set of directions to finish off your penguins.
Penguin Doughnut Recipe
Makes 12 doughnut
Doughnut Ingredients:
2 2/3 C flour
1 1/2 tsp baking powder
1/4 tsp baking soda
1 tsp nutmeg
3/4 tsp salt
3/4 C sugar
1/2 C milk
1/4 C melted butter
1/2 C sour cream
2 large egg (room temp)
1/4 C vegetable oil
Black food coloring
36 orange M&M's
24 small edible eyes
1 squeeze bottle
2 disposable piping bag
Doughnut Directions:
Preheat oven to 400 degrees F.
Use a baking spray to prep your doughnut pan.
Set the pan to the side.
Whisk together the flour, baking powder, baking soda, cinnamon, salt and sugar in a large bowl.
Whisk together the whole milk, sour cream, and eggs into a separate bowl.
Whisk in the melted butter, vegetable oil, and vanilla
Gradually whisk in the wet ingredients into the dry ingredients and stir just until combined
Scoop batter into 1 disposable piping bag
Fill in donut pan with batter
Bake at 400 degrees for 9 minutes.
Allow doughnuts to cool a few minutes in the pan.
Transfer the donuts to a wire rack to completely cool.
Doughnut Icing Ingredients:
1 1/2 cups powdered sugar
1 tablespoon light corn syrup
1 teaspoon vanilla
1 – 3 tablespoons water
Icing Directions:
Whisk all ingredients together in a stand mixer, using the water to adjust for desired consistency.
Dip donuts into the white icing and place onto white rack to harden for 15 minutes
Mix in a few drops of black food coloring into the remaining white icing
Scoop about 3 tablespoons of icing into the last piping bag
Mix in 1/2 teaspoon of water into the remaining black icing to thin it slightly
Pour icing into the squeeze bottle
Pipe a line on the donut for the body of the penguin
Make sure the leave the bottom white still
Pipe a small dot onto the "M" side of a orange M&M and place onto the top part of the middle on the donut
Pipe a dot onto two edible eyes and place onto the donut for eyes
Pipe a dot onto two more orange M&M's and place onto the bottom of the donut for the feet
Allow black icing to dry for 30 minutes before enjoying!
After you try the Penguin doughnut recipe, come back and let us know your thoughts.
If you need other ideas, you have another recipe for a glazed homemade donuts as well as a fun Mardi Gras Doughnuts Recipe inspired by the Carnival celebrations.