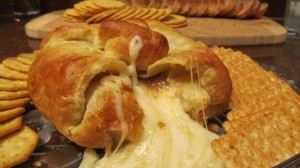 Shopping the sales (and your pantry) is one of the best ways to save money, even around the Holiday's! Emily is making a baked brie appetizer for less than $5 this weekend!
I was able to grab two Smucker's Jellies at Harris Teeter this morning for $.50 each:
Smucker's Jelly $2.00
$.75 off Smuckers Jelly (printable)
TOTAL: $.50
I also noted that President Soft Ripened Cheese Brie is on sale at Farm Fresh for $5.99 this week too:
(2) President Brie $5.99
$3.00 off 2 President Cheese Products (share with 3 friends)
Total: $4.49 each!
If you need some puff pastry, its on sale at Farm Fresh for $4.29 this week too.
Pepperidge Farm Puff Pastry $4.29
$1.00 Pepperidge Farm Puff Pastry Sheets or Shells (Facebook, share with 3 friends)
Total: $3.29
So, if you happen to have some puff pastry in the freezer like me, you can make a DELICIOUS appetizer for your guests this weekend for about $5!  And if you don't, making this appetizer for less than $9 is still a steal – the brie cheese is usually $10 alone. Yum-o!
Baked Brie in Puff Pastry With Apricot or Raspberry Preserves
Ingredients
0.5 (17 ounce) packages frozen puff pastry, thawed
1 (8 ounce) packages brie cheese, round
1/8 cup toasted almond, slices (optional)
1/4 cup of your favorite preserves
Directions
Preheat oven to 425.
Lightly grease cookie sheet.
Roll puff pastry out slightly.
Place cheese wheel on top (leave rind on).
Place preserves on top of cheese.
Place almonds on top of preserves.
Bundle Puff Pastry up and around the cheese.
Bake for 20-25 minutes.
Let cool for five minutes.
Serve with your favorite crackers.
Photo and recipe courtesy of Food.com