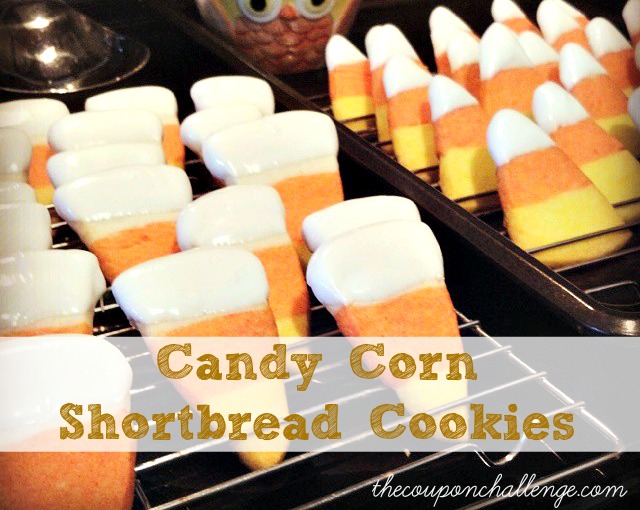 I posted this picture to my Facebook wall on Saturday – I was baking cookies for a party at my twin sister's house later that evening and these were the requested treat. I only make them in the Fall, and we just dream about them during the rest of the year.
While they are a little bit time intensive, they are SO worth every minute spent in the kitchen. They taste as cute at they look! I usually make a double batch. This year I am bringing some to our little family Halloween party on Thursday, too 🙂
Candy Corn Cookies Recipe
Ingredients
3/4 pound salted butter, at room temperature
3/4 cup granulated sugar
1/4 cup powdered sugar
1 teaspoon pure vanilla extract
2 1/2 cups all-purpose flour
1 cup cornstarch
1/2 teaspoon salt
Almond bark or candy quick
Yellow and red food coloring

Directions
1. Preheat the oven to 350 degrees F.

2. Mix together the butter and granulated and powdered sugar until they are just combined. Add the vanilla. In a medium bowl, sift together the flour, cornstarch and salt, then add them to the butter-and-sugar mixture. Mix on low speed until the dough starts to come together.

3. Separate the dough into three equal sized balls. Carefully add food coloring to make one ball yellow and one ball orange.

4. Then, line a loaf pan with plastic wrap. Press the yellow ball of dough into the bottom, making it about 1/2″-3/4″ thick. It may not fill the entire bottom of the pan, thats OK. Then, layer the orange ball of dough over the yellow one, pressing it flat. Finally, layer the white ball on top. Press it in firmly to avoid air pockets.

5. Put the pan in the freezer for 15 minutes to cool down.

6. When the dough is firm, dump the tri-colored block onto a cutting board and use a knife to cut it into 1/4″ slices. Then, cut the slices into triangles. I find that I can get five "candy corns" out of each slice. There will be wonky shaped candy corns, and a few that will fall apart, but bake them up anyways. They still taste great!

Photo courtesy of Our Best Bites

7. Place the triangle cookies on an ungreased baking sheet. Bake for 15 to 20 minutes. I watch my cookies VERY carefully, so the white/yellow tips don't start to brown. Nobody likes burned candy corn! Allow to cool to room temperature.

8. While the cookies are cooling, melt almond bark in a microwave safe bowl. Start by using 30 second increments and checking each time, you don't want it to overheat.

9. Dip the white end of the cookies into the melted candy quick. I stand my cookies very carefully in a wire baking rack, with the dipped end pointing up until they are set (like the picture at the top), usually about 15-20 minutes. (Some will have white tips, like real candy corn, and some will have white bases – its just how they come out. Honestly, the white base means more candy quick, so they usually get eaten first)

10. The last direction is this: DO NOT EAT THEM ALL AT ONCE! They are that good. Especially with coffee 😀
You can use any shortbread cookie recipe you want – I use a modified version of Ina Garten's Shortbread Cookies:
Like I mentioned, they are a little labor intensive, but so worth the results. You can also refrigerate the dough for up to a week, so you could mix up a batch and press it into the pan one evening, and then cut/bake/dip your cookies on another night.
Happy Fall & enjoy this Candy Corn Cookies Recipe!
You might also like this Thrifty Thanksgiving Candy Corn Ornament