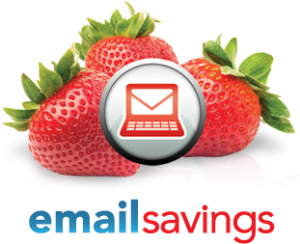 Want a coupon from Farm Fresh? 
Below is all the info for the new Email Savings Program:
New subscribers to the sign up for Farm Fresh's Email Savings Program get a coupon for $5 off a $25 purchase. But, for those who are already receiving our email offers, you can earn up to five additional $5 off your $25 purchase coupons for each friend who registers!
 
There is a maximum of five referrals per user, so choose your friends carefully! You won't get another chance at earning the coupons if the first five you refer don't sign up. However, for each friend that signs up for our Email Savings Program at your suggestion, you'll each receive a $5 off a $25 purchase coupon. It's that simple! For those who haven't registered for our Email Savings Program yet, they could receive up to $30 off future purchases just for signing up and recruiting five friends to register as well. Click here to sign up or to share this offer with your friends to start earning coupons!
 
Again, only the first five referrals are eligible for the extra coupon offer, additional referrals after the initial five will not count towards getting another coupon. Also, the offer is one per household, and unsubscribing and resubscribing will not earn another coupon as well.
*Coupon must meet minimum purchase requirement after all other valid coupon redemption's and customer discounts.  Personally, this coupon would be good either on a Catalina deal or purchasing staples.
**Please watch the expiration date!  Mine expires in 1 week!  As well as my refer a friend coupon