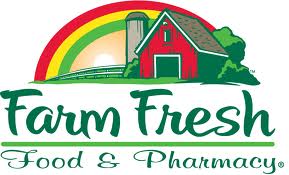 Farm Fresh is having $2 Doubles starting tomorrow!  This list is just to get you started.  I'm way behind from being out of town and babysitting my little nephew.
See the Farm Fresh Sale Ad Matchups for more deals.
Don't forget you can enter to win a $25 SuperValu Gift Card & Summer Essentials Filled Picnic Basket from Farm Fresh!
Double $2 coupons are on Sunday-Tuesday ONLY
Double coupons up to and including $0.99 everyday.
Limit 2 like coupons per transaction.
Limit 20 coupons per person per day.
B1G1 items ring at half price.
Some stores are no longer allowing doubles on coupons that state "Do Not Double".
Present a Military ID for 10% off Farm Fresh family brand products
Bring your reusable shopping bags for $0.05 off per bag
Get the Farm Fresh Coupon Policy
More Coupons:
$2/1 Visine Soothing Wipes Product, exp. 6/30/12 (RP 03/11/12)
$2/1 Gold Bond Ultimate Daily Moisturizing, exp. 6/30/12 (SS 04/01/12)
$2/1 Smithfield Ham, exp. 5/31/12 (SS 04/01/12 R)
$2/1 Pediasure Product, exp. 6/17/12 (SS 05/06/12)
$2/1 Clearblue Digital Pregnancy Test or Digital Ovulation Test, exp. 5/26/12 (RP 05/06/12)
$2/1 Clearblue Digital Pregnancy Test or Digital Ovulation Test, exp. 5/26/12 (RP 05/06/12)
$2/1 Act Sensitive Formula Mouthwash, exp. 5/26/12 (SS 04/15/12 R)
$2/1 Lloyd's BBQ Ribs printable