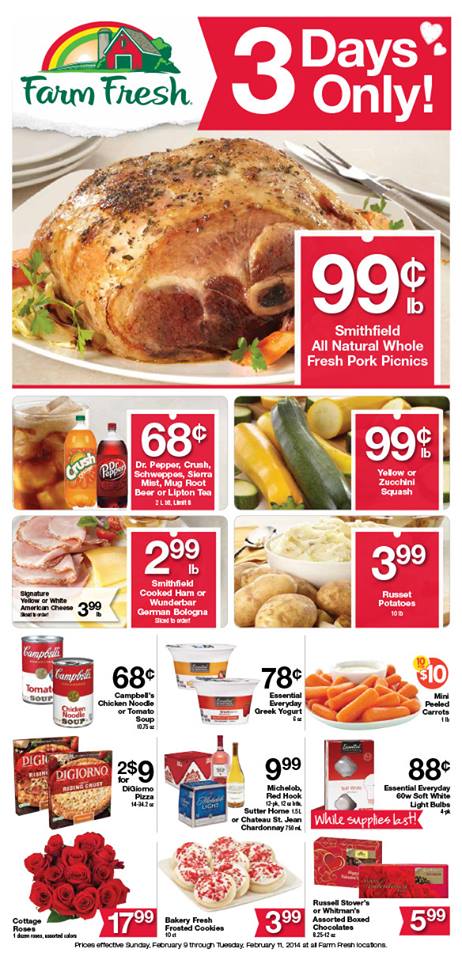 Farm Fresh has another 3-Day sale this week. I've listed a few of the best deals below.  Sale valid Sunday-Tuesday only.
Double $1 coupons are on Wednesday ONLY.
Double coupons up to and including $0.99 everyday.
Limit 2 like coupons per shopping visit.
Limit 20 coupons doubled per person per day.
B1G1 items ring at half price.
Doubles not allowed on coupons that state "Do Not Double".
Farm Fresh Military Discount Policy – Present a Military ID for 10% off Farm Fresh Family Brand Products everyday
Bring your reusable shopping bags for $0.05 off per bag
$0.99 Smithfield All Natural Picnic Ham $0.99lb
Yellow or Zucchini Squash $0.99lb
Mini Peeled Carrots 1lb $1
Dr. Pepper, Crush, Schweppers, Sierra Mist, Mug Root Beer or Lipton Tea 2L $0.68 (Limit 8)
Russet Potatoes 10lb $3.99
Campbells Chicken Noodle or Tomato Soup $0.68
$0.40/4 Campbell's Condensed Chicken Noodle, Tomato or Cream of Mushroom Soup, exp. 4/6/14 (SS 02/09/14)
$0.50/5 Campbell's Condensed Chicken Noodle, Tomato, or Mushroom Soup, exp. 3/15/14 (SS 01/12/14)
$0.40/2 Campbell's Condensed Soup, exp. 3/15/14 (SS 01/12/14 R)
$1/5 Campbell's Condensed Soup printable
As low as $0.28 each wyb 2
DiGiorno Pizza $4.50
B2G1 Digiorno Pizza, exp. 2/9/14 (RP 01/26/14 #2 R)
Final: $3 each wyb 3
See more Farm Fresh Deals!