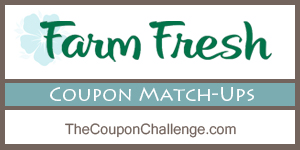 Farm Fresh Coupon Matchups are done! Please visit the Farm Fresh coupon matchups page for a complete list of deals! Make sure you are viewing the tab for the correct date. Let me know what else you find or if you have corrections!
Beverages
Nestle Pure Life Water, 24 pk 0.5 L – $2.99
Final Price: $2.49
Breakfast & Cereal
FREE Gallon of Essential Milk When You Buy any (4) Participating General Mills Cereals.
General Mills Cereal, 9 – 13.1 oz – $2.50
$0.75/2 General Mills Cheerios Cereal – 1-7-18 SS (exp. 02/17/18)

$1.00/2 General Mills Cheerios Cereal – 1-7-18 SS (exp. 02/17/18)

$1.00/3 General Mills Boxed Cereal – 1-14-18 SS; Includes Cheerios, Cinnamon Toast Crunch, Lucky Charms, Reese's Puffs, Chex, Blasted Shreds, Cocoa Puffs, Trix, Fiber One, Cookie Crisp, Golden Grahams, Kix, Total, Wheaties, Dora The Explorer, Oatmeal Crisp, Raisin Nut bran, Basic 4, Girl Scouts, or Nature Valley Boxed Cereal (exp. 02/24/18)
Final Price: $1.75
Canned Goods & Soups
Dole Fruit Cups, 4 pk – $2.50
$0.50/1 Dole Fruit Bowls In Slightly Sweetened Coconut Water – 1-7-18 SS (exp. 03/04/18)

$1.00/1 Dole Fruit Bowls In Slightly Sweetened Coconut Water – 1-7-18 SS (exp. 03/04/18)

$1.00/2 Dole Frozen Fruit Bag – 1-14-18 SS (exp. 04/08/18)

$1.00/2 Dole Fruit Bowls – 1-14-18 SS; Includes 4 ct Only (exp. 03/11/18)

$1.00/2 Dole Fruit Bowls In Slightly Sweetened Coconut Water – 1-7-18 SS (exp. 03/04/18)
Final Price: $1.50
Ragu Pasta Sauce, 16 – 24 oz – $1.67
Final Price: $1.17
Grains, Pasta & Sides
Mueller's Pasta, 12 – 16 oz – $1.00
$0.75/2 Mueller Pasta – 1-7-18 SS (exp. 02/17/18)
Final Price: $0.25
Meat, Poultry & Fish
Chicken, Thihs, per lb – $0.99
Personal Care
Colgate Toothpaste, 4 – 5.5 oz – $1.00
Final Price: Free
Pharmacy
Advil Liqui-Gel Mini Pain Reliever, 20 ct – $3.99
Final Price: $1.99
Produce
Strawberries, 1 lb – $2.00
[favado_my_list]