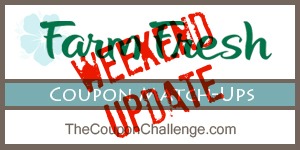 Get your weekend update for Farm Fresh Mega doubles today, Sunday! Today is the last day Farm Fresh is doubling coupons up to $2. Don't forget about the weekly Facebook coupon valid through today – a FREE Wild Harvest Organic Lemonade with additional $10 purchase!
Don't forget to check all your weekly ad and monthly ad coupon matchups before shopping.
Let me know if you find other deals or have corrections!
Dollar Coupon Final Prices Assume

Shopping

on Wednesday or Sunday. Add $1 all other days of the week.
**Matchups are based on the inserts in the Daily Press newspaper, based out of the Hampton Roads area of Virginia. Your coupons/coupon values may vary based on what newspaper you pick up and what area you're in.**
Double $1 coupons are on Wednesday & Sunday ONLY.
Double coupons up to and including $0.99 everyday.
Limit 2 like coupons per shopping visit.
Limit 20 coupons doubled per person per day.
B1G1 items ring at half price.
Doubles not allowed on coupons that state "Do Not Double".
Farm Fresh Military Discount Policy – Present a Military ID for 10% off Farm Fresh Family Brand Products everyday
Bring your reusable shopping bags for $0.05 off per bag
Learn about Using SavingStar Coupons at Farm Fresh
Get the Farm Fresh Coupon Policy
Procter & Gamble
Pantene Mousse $4
Use $2/1, P&G 5/31
Final Price: FREE
Crest 3D White, 4 oz $3.79
Use $1/1, P&G 5/31
Final Price: $1.79 each
Always Discreet Liners, 48 ct $5.99
Use $2/1, P&G 5/31
Final Price: $1.99 each
Secret Outlast, 2.60 oz $3.99
Use $2/2, P&G 5/31
Final Price: $1.99 each, when you buy 2
Pantene Shampoo and Conditioner, 12 oz $4
Use $2/2, P&G 5/31
Final Price: $2 each, when you buy 2
Scope Mouthwash, 33.80 oz $4.69
Use $1/1, P&G 5/31
Final Price: $2.69 each
Always Infinity, 16 ct $4.69
Use $1/1, P&G 5/31
Final Price: $2.69 each
Tampax Pearl, 18 ct $5.49
Use $1/1, P&G 5/31
Final Price: $3.49 each
Fixodent Adhesive, 2 oz $5.49
Use $2/2, P&G 5/31
Final Price: $3.49 each, when you buy 2
Secret Clinical, 1.60 oz $7.99
Use $2/1, P&G 5/31
Final Price: $3.99 each
Clairol Nice 'n Easy Hair Color $8.59
Use $2/1, P&G 5/31
Final Price: $4.59 each
Tide Detergent, 46 oz $7.99
Use $1/1, P&G 5/31
Final Price: $5.99 each
Pampers, various counts $8.97
Use $2/2, P&G 5/31
Final Price: $7.47 each, when you buy 2
Red Plum
Gold Bond Hand Cream, 3 oz $2.99
Use $1/1, RP 5/31
Final Price: $0.99 each
Barbasol Shave Cream, 10 oz $1.79
Use $0.50/2
Final Price: $1.29 each, when you buy 2
IcyHot Cream, 1.25 oz $3.69
Use $1/1, RP 5/31
Final Price: $1.69 each
Kellogg's Cereal, $2.50 each when you buy 4 (plus free gallon of Farm Fresh milk)
Use $1/3, RP 5/31
Final: $2 each, when you buy 4 and a free gallon of milk
Polident Denture Cleanser Tabs, 120 ct $6.59
Use $2/1, RP 5/31
Final Price: $2.59 each
Wisk Detergent, 50 oz $6.69
Use $2/1, RP 5/31
Final Price: $2.69 each
Cortizone 10, 1 oz $4.99
Use $1/1, RP 5/31
Final Price: $2.99 each
Biotene Mouth Spray, 1.50 oz $6.39
Use $1.50/1, RP 5/31
Final Price: $3.39 each
Smart Source
Dannon Light & Fit, 4 pack $2.29
Use $1/1, SS 5/31
Final Price: $0.29 each
Colgate Toothpaste, 6.40 oz $1.50
Use $1/2, SS 5/31
Final Price: $0.50 each, when you buy 2
Reach Toothbrush $2.59
Use $1/1, SS 5/31
Final Price: $0.59 each
Canine Carry Outs, 5 oz $1.19
Use $1/4, SS 5/31
Final Price: $0.69 each, when you buy 2
Gerber Graduates Breakfast, 4.50 oz $1.79
Use $1/2, SS 5/31
Final Price: $0.79 each, when you buy 2
So Delicious Organic Coconut Milk, 32 oz $3.99
Use $1/1, SS 5/31
Final Price: $1.99 each
Wholly Guacamole, 8 oz $3.29
Use $0.50/1, SS 5/31
Final Price: $2.29 each
Kibbles 'n Bits, 3.50 lbs $5.49
Use $1/1, SS 5/31
Final Price: $3.49 each
OxiClean White Revive, 3 lbs $6.99
Use $1.50/1, SS 5/31
Final Price: $3.99 each
OxiClean Dishwasher Detergent, 12.70 oz $7.19
Use $1.50/1, SS 5/31
Final: $4.19 each