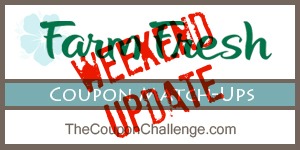 Get your weekend update for Farm Fresh $1 doubles today, Sunday 11/08! Don't forget about the weekly Facebook coupon valid through today – a FREE 12 oz Gwaltney hot dogs with an additional $10 purchase!
Don't forget to check all your weekly ad and monthly ad coupon matchups before shopping.
Let me know if you find other deals or have corrections!
Dollar Coupon Final Prices Assume

Shopping

on Wednesday or Sunday. Add $1 all other days of the week.
Double $1 coupons are on Wednesday & Sunday ONLY.
Double coupons up to and including $0.99 everyday.
Limit 2 like coupons per shopping visit.
Limit 20 coupons doubled per person per day.
B1G1 items ring at half price.
Doubles not allowed on coupons that state "Do Not Double".
Farm Fresh Military Discount Policy – Present a Military ID for 10% off Farm Fresh Family Brand Products everyday
Bring your reusable shopping bags for $0.05 off per bag
Learn about Using SavingStar Coupons at Farm Fresh
Get the Farm Fresh Coupon Policy
Red Plum 11/08
Scotties Facial Tissue, 70 ct $1
Use $0.50/3
Final Price: $0.67 each, when you buy 3
Pioneer Gravy, 1.61 oz $0.99
Use $0.55/2
Final Price: $0.71 each, when you buy 2
Gillette Satin Care Shave Gel, 7 oz $2.79
Use $1/1
Final Price: $0.79 each
Barilla Pasta, 16 oz $1.49
Use $0.55/2
Final Price: $0.94 each, when you buy 2
Ricola Throat Drops, 18 ct $1.99
Use $1/2
Final Price: $0.99 each, when you buy 2
Carnation Evaporated Milk, 12 oz $1.59
Use $0.55/2
Final Price: $1.04 each, when you buy 2
Cheez-It Crackers, 7 oz $2.19
Use $1/2
Final Price: $1.19 each, when you buy 2
Aussie Shampoo, 13 oz $3.33
Use $1.50/2
Final Price: $2.58 each, when you buy 2
Herbal Essences Shampoo, 10 oz $3.50
Use $1.50/2
Final Price: $2.75 each, when you buy 2
Sara Lee Pound Cake, 10.75 oz $3.99
Use $0.55/1
Final Price: $3.44 each
Dial Body Wash, 16 oz $5.79
Use $1/1
Final Price: $3.79 each
Gillette Disposable Razors, 3 ct $6.79
Use $2/1
Final Price: $4.79 each
Smart Source 11/08
Fleischmann's Yeast, 0.75 oz $1.25
Use $0.75/1
Final Price: FREE
Southeastern Mills Chicken Gravy Mix, 2.75 oz $0.79
Use $0.50/2
Final Price: $0.29 each, when you buy 2
Blistex Orange Mango Lip Balm, 0.15 oz $1.19
Use $0.75/2 OR $0.25/1
Final Price: as low as $0.44 each, when you buy 2
Campell's Condensed Tomato Soup, 10.75 oz $0.80
Use $0.40/4
Final Price: $0.60 each, when you buy 4
Argo Corn Starch, 16 oz $1.50
Use $0.40/1
Final Price: $0.70 each
Palmolive Dish Soap, 10 oz $1.79
Use $1/2
Final Price: $0.79 each, when you buy 2
Simply Potatoes Hash Browns, 20 oz $2
Use $0.55/1
Final Price: $0.90 each
Del Monte Canned Vegetables, 15.25 oz $0.99
Use $0.40/4
Final Price: $0.98 each, when you buy 4
Xtra Detergent, 75 oz $2.50
Use $1/2
Final Price: $1.50 each, when you buy 2
Mazola Non-Stick Spray, 5 oz $2.69
Use $0.55/1
Final Price: $1.59 each
Karo Corn Syrup, 16 oz $2.49
Use $0.40/1
Final Price: $1.69 each
Swanson Broth, 32 oz $2
Use $0.40/3
Final Price: $1.73 each, when you buy 3
Nabisco Cheese Nips, 10 oz $2.49
Use $0.75/2
Final Price: $1.74 each, when you buy 2
Wet Ones, 40 ct $2.79
Use $0.50/1 OR $1.50/2
Final Price: as low as $1.79 each
Sister Schubert's Mini Baguettes, 12 oz $2.99
Use $0.60/1
Final Price: $1.79 each
Marzetti Veggie Dip, 14 oz $2.99
Use $0.60/1
Final Price: $1.79 each
Fleischmann's Simply Homemade Mix, 15 oz $2.99
Use $0.55/1
Final Price: $1.89 each
Kikkoman Soy Sauce, 10 oz $2.49
Use $0.55 (DND)
Final Price: $1.94 each
Nivea Men Body Wash, 16 oz $3.99
Use $1/1
Final Price: $1.99 each
Wonderful Almonds, 7 oz $3.99
Use $0.50/1
Final Price: $2.99 each
Johnsonville Breakfast Sausage, 12 oz $3.99
Use $1/2
Final Price: $2.99 each, when you buy 2
Wonderful Pistachios, 7 oz $4.99
Use $0.50/1
Final Price: $3.99 each
Nature Valley Bistro Cups, 8.28 oz $6.39
Use $2/1
Final Price: $4.39 each
Palmer's Cocoa Butter, 8.50 oz $6.09
Use $1.50/1
Final Price: $4.59 each
You might also like: