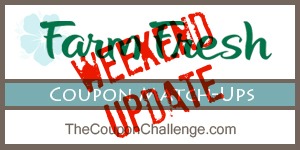 Get your weekend update for Farm Fresh $2 doubles today, Sunday 10/11! Mega Doubles begins today and continues through Tuesday, 10/27. Don't forget about the weekly Facebook coupon valid through today – a FREE pumpkin with an additional $10 purchase (up to $3.99 value)!
Don't forget to check all your weekly ad and monthly ad coupon matchups before shopping.
Let me know if you find other deals or have corrections!
Dollar Coupon Final Prices Assume

Shopping

on Wednesday or Sunday. Add $1 all other days of the week.
Double $1 coupons are on Wednesday & Sunday ONLY.
Double coupons up to and including $0.99 everyday.
Limit 2 like coupons per shopping visit.
Limit 20 coupons doubled per person per day.
B1G1 items ring at half price.
Doubles not allowed on coupons that state "Do Not Double".
Farm Fresh Military Discount Policy – Present a Military ID for 10% off Farm Fresh Family Brand Products everyday
Bring your reusable shopping bags for $0.05 off per bag
Learn about Using SavingStar Coupons at Farm Fresh
Get the Farm Fresh Coupon Policy
Red Plum
Zing Stevia Sweetener, 1.40 oz $2.69
Use $1.50/1
Final Price: FREE
Quaker Instant Oatmeal Cup, 1.79 oz $1
Use $1/2
Final Price: both FREE
McCormick Brown Gravy Mix, 0.87 oz $1
Use $0.50/2
Final Price: $0.50 each, when you buy 2
Loreal Advanced Haircare Shampoo, 12.60 oz $4.99
Use $2/1
Final Price: $0.99 each
Haribo Gummy Bears, 5 oz $1.49
Use $0.30/1 (DND)
Final Price: $1.19 each
Aquafresh Kids Toothpaste, 4.60 oz $2.99
Use $0.75/1
Final Price: $1.49 each
Aquafresh Toothpaste, 5.60 oz $2.49
Use $1/2
Final Price: $1.49 each, when you buy 2
Aquafresh Extreme Clean, 5.60 oz $3.49
Use $0.75/1
Final Price: $1.99 each
Superpretzel, 13 oz $3.39
Use $0.50/1
Final Price: $2.39 each
Hefty Tall Kitchen Trash Bags, 45 ct $7.99
Use $1.25/1
Final Price: $5.49 each
Ball Park Flame Grilled Patties, 16.20 oz $8.49 each
Use $1.50/1 (DND)
Final Price: $6.99 each
Iams Proactive Dry Dog Food, 15 lbs $16.99
Use $2/1
Final Price: $12.99 each
Smart Source

Finesse Shampoo, 13 oz $2.50
Use $1/1
Final Price: $0.50 each
Bush's Baked Beans, 16 oz
Use $1/3
Final Price: $0.83 each, when you buy 3
Colgate Toothpaste, 4.60 oz $2
Use $1/2
Final Price: $1 each, when you buy 2
Nivea Lip Balm, 0.17 oz $2.50
Use $3/2
Final Price: $1 each, when you buy 2
Colgate Kids Mouthwash, 16.90 oz $3.29
Use $1/1
Final Price: $1.29 each
Bush's Baked Beans, 28 oz $2.29
Use $1/2
Final Price: $1.29 each, when you buy 2
POM Juice, 8 oz $1.99
Use $0.50/1 (DND)
Final Price: $1.49 each
Speed Stick, 3 oz $2.50
Use $1/2
Final Price: $1.50 each, when you buy 2
Colgate Kids Toothbrush $2.50
Use $1/2
Final Price: $1.50 each, when you buy 2
Luzianne Tea Bags, 24 ct $2.79
Use $0.50/1
Final Price: $1.79 each
Nivea Body Lotion, 16.90 oz $5.99
Use $2/1
Final Price: $1.99 each, when you buy 2
Glade Candle, 3.80 oz $3
Use $1/2
Final Price: $2 each, when you buy 2
Sargento Ultra Thin Slices, 6.30 oz $3.39
Use $1/2
Final Price: $2.39 each, when you buy 2
Colgate Kids Toothpaste, 4.60 oz $3.50
Use $1/2
Final Price: $2.50 each, when you buy 2
Pam Cooking Spray, 5 oz $3.49
Use $0.30/1
Final Price: $2.89 each
Tombstone Pizza, 19.80 $3.99
Use $1/2
Final Price: $2.99 each, when you buy 2
Eucerin Eczema Relief, 2 oz $7.59
Use $2/1
Final Price: $3.59 each