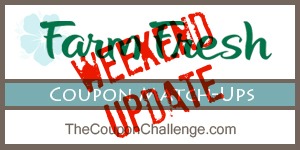 Get your weekend update for Farm Fresh $1 doubles today, Sunday 11/29! Don't forget about the weekly Facebook coupon valid through today – a FREE 10 ct Essential Everyday waffles with an additional $10 purchase! Today is also the last day of Mega Doubles (matchups reflect the prices with coupon event).
Don't forget to check all your weekly ad and monthly ad coupon matchups before shopping.
Let me know if you find other deals or have corrections!
Dollar Coupon Final Prices Assume

Shopping

on Wednesday or Sunday. Add $1 all other days of the week.
Double $1 coupons are on Wednesday & Sunday ONLY.
Double coupons up to and including $0.99 everyday.
Limit 2 like coupons per shopping visit.
Limit 20 coupons doubled per person per day.
B1G1 items ring at half price.
Doubles not allowed on coupons that state "Do Not Double".
Farm Fresh Military Discount Policy – Present a Military ID for 10% off Farm Fresh Family Brand Products everyday
Bring your reusable shopping bags for $0.05 off per bag
Learn about Using SavingStar Coupons at Farm Fresh
Get the Farm Fresh Coupon Policy
P&G 11/29
Tide Pods, 14 ct $5.49
Use $2/1
Final Price: $1.49 each
Pantene Perfection Defining Mousse, 6.60 oz $4.49
Use $1.50/1
Final Price: $1.49 each
Oral B Glide Floss, 40 ct $3.59
Use $1/1
Final Price: $1.59 each
Bounty, 1 ct $2.39
Use $0.25/1
Final Price: $1.89 each
Febreze Noticeables, 0.87 oz $5.99
Use $2/1
Final Price: $1.99 each
Always Discreet Liner, 48 ct $5.99
Use $2/1
Final Price: $1.99 each
Charmin, 4 ct $2.99
Use $0.25/1
Final Price: $2.49 each
Pantene Shampoo & Conditioner, 12 oz $4.49
Use $5/3 or $2/2
Final Price: as low as $2.49 each, when you buy 2
Pepto Bismol, 8 oz $4.49
Use $0.50/1
Final Price: $3.49 each
Downy, 51 oz $4.49
Use $0.50/1
Final Price: $3.49 each
Pampers Diapers, 37 ct $8.97 & Pampers Wipes, 64 ct $2.50
Use $2/2 (need to buy both)
Final Price: $3.73 each, when you buy both
Head & Shoulders Shampoo, 13.50 oz $5.50
Use $3/2
Final Price: $4 each, when you buy 2
Swiffer WetJet Refill, 42.20 oz $5.99
Use $0.50/1 or $1.50/2
Final Price: as low as $4.99 each
Clairol Natural Instincts Hair Color $8.99
Use $2/1 or $5/2
Final Price: as low as $4.99 each
Tide, 46 oz $7.99
Use $1/1
Final Price: $5.99 each
Dayquil Severe, 12 oz $10.49
Use $1/1
Final Price: $8.49 each
Prilosec OTC, 14 ct $11.29
Use $1/1
Final Price: $9.29 each
Always Discreet Underwear, 19 ct $13.99
Use $2/1
Final Price: $9.99 each
Swiffer WetJet Starter Kit $24.99
Use $3/1
Final Price: $21.99 each
You might also like: