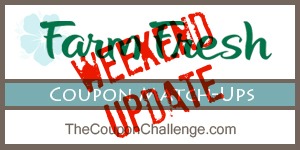 Get your weekend update for Farm Fresh $1 doubles today, Sunday 2/14! Don't forget about the weekly Facebook coupon valid through today – 3 fresh baked Bolillo or Telera rolls!
Don't forget to check all your weekly ad and monthly ad coupon matchups before shopping.
Let me know if you find other deals or have corrections!
Dollar Coupon Final Prices Assume

Shopping

on Wednesday or Sunday. Add $1 all other days of the week.
Double $1 coupons are on Wednesday & Sunday ONLY.
Double coupons up to and including $0.99 everyday.
Limit 2 like coupons per shopping visit.
Limit 20 coupons doubled per person per day.
B1G1 items ring at half price.
Doubles not allowed on coupons that state "Do Not Double".
Farm Fresh Military Discount Policy – Present a Military ID for 10% off Farm Fresh Family Brand Products everyday
Bring your reusable shopping bags for $0.05 off per bag
Learn about Using SavingStar Coupons at Farm Fresh
Get the Farm Fresh Coupon Policy
Red Plum #1 (JC Penney cover) 2/14/2016
Land O Lakes Eggs, 12 ct $2.99
Use $0.50/1
Final Price: $1.99 each
Oral B 3D White Toothbrush $3
Use $0.50/1
Final Price: $2 each
Aveeno Shave Gel, 7 oz $4.29
Use $1/1
Final Price: $2.29 each
Pantene Shampoo and Conditioner, 12 oz $4
Use $3/2
Final Price: $2.50 each, when you buy 2
Pantene Non Aerosol Hairspray, 8.50 oz $4.99
Use $1/1
Final Price: $2.99 each
Pantene 3 Minute Miracle Deep Conditioner, 6 oz $4.99
Use $1/1
Final Price: $2.99 each
Children's Advil, 4 oz $6.49
Use $3/1
Final Price: $3.49 each
Advil Sinus Congestion & Pain, 10 ct $6.49
Use $3/1
Final Price: $3.49
Robitussin, 4 oz $6.99
Use $3/1
Final Price: $3.99 each
Gain Fireworks, 13.20 oz $6.99
Use $1/1 or $2.50/2
Final Price: as low as $4.99 each
Gain Detergent, 50 oz $5.99
Use $0.50/1 or $1/2
Final Price: as low as $4.99 each
Flonase, 120 spray $25.99
Use $10/1
Final Price: $15.99 each
Red Plum #2 (Loreal Paris cover) 2/14/2016
Dial Bar Soap, 3 ct $1
Use $1/2
Final Price: 2 for FREE
Loreal Advanced Haircare Shampoo, 12.60 oz $3.99
Use $2/1
Final Price: $1.99 each
Ore-Ida Fries, 26 oz $2.99
Use $1/2
Final Price: $1.99 each, when you buy 2
Purex Crystals, 28 oz $3.50
Use "Buy 2, Get 1 Free"
Final Price: $2.33 each, when you buy 3
Dial Body Wash, 16 oz $4.50
Use $1/1
Final Price: $2.50 each
Loreal Advanced Haircare Primer Spray, 4.20 oz $4.99
Use $2/1
Final Price: $2.99 each
Tyson Chicken Nuggets, 32 oz $5.99
Use $1/1
Final Price: $3.99 each
Loreal Paris Excellence Haircolor $9.59
Use $2/1
Final Price: $7.59 each
You might also like: