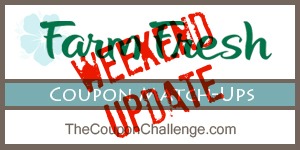 Get your weekend update for Farm Fresh $2 doubles today, Sunday 2/21! Don't forget about the weekly Facebook coupon valid through today – a 10 ct Essential Everyday waffles!
Don't forget to check all your weekly ad and monthly ad coupon matchups before shopping.
Let me know if you find other deals or have corrections!
Dollar Coupon Final Prices Assume

Shopping

on Wednesday or Sunday. Add $1 all other days of the week.
Double $1 coupons are on Wednesday & Sunday ONLY.
Double coupons up to and including $0.99 everyday.
Limit 2 like coupons per shopping visit.
Limit 20 coupons doubled per person per day.
B1G1 items ring at half price.
Doubles not allowed on coupons that state "Do Not Double".
Farm Fresh Military Discount Policy – Present a Military ID for 10% off Farm Fresh Family Brand Products everyday
Bring your reusable shopping bags for $0.05 off per bag
Learn about Using SavingStar Coupons at Farm Fresh
Get the Farm Fresh Coupon Policy
Smart Source 2/21
Dannon Light & Fit Yogurt, 4 pack $2
Use $1/1
Final Price: FREE
Colgate Toothpaste, 4.60 oz $1
Use $1/2
Final Price: 2 for FREE
Colgate Optic White, 3.50 oz $4.49
Use $2/1
Final Price: $0.49 each
Fiji Water, 16 .9 oz $1.59
Use $0.50/1
Final Price: $0.59 each
Ambi Fade Cream, 2 oz $4.99
Use $2/1
Final Price: $0.99 each
Edge Shave Gel, 7 oz $3
Use $1/1
Final Price: $1 each
Softsoap Body Wash, 15 oz $3
Use $1/1
Final Price: $1 each
Dole Fruit in Gel, 4 pack $1.99
Use $0.50/2
Final Price: $1.49 each, when you buy 2
Dole No Sugar Added Fruit Bowls, 4 pack $1.99
Use $0.50/2
Final Price: $1.49 each, when you buy 2
Colgate 360 Manual Toothbrush $3.50
Use $1/1
Final Price: $1.50 each
Xtra Detergent, 75 oz $2.50
Use $1/2
Final Price: $1.50 each, when you buy 2
Milk Bone Brushing Chews, 5.50 oz $3.99
Use $1/1
Final Price: $1.99 each
Schick Xtreme3, 4 ct $6.49
Use $2/1
Final Price: $2.49 each
Purina Cat Chow, 3.15 lb $4.50
Use $1/1
Final Price: $2.50 each
Barber Foods, 10 oz $5.59
Use $1.50/1
Final Price: $2.59 each
Lysol Wipes, 35 ct $3.49 and Spray, 12.5 oz $5.99
Use $2/2
Final Price: $2.74 each, when you buy both
Irish Spring Body Wash, 18 oz $5.59
Use $1/1
Final Price: $3.59 each
Theraflu, 6 ct $7.39
Use $1.50/1
Final Price: $4.39 each
Schick Hydro Razor $9.39
Use $4/1
Final Price: $5.39 each
ReNu Contact Solution, 12 oz $9.99
Use $2/1
Final Price: $5.99
Eight O'Clock Coffee, 12 oz $7.69
Use $1.50/2
Final Price: $6.19 each, when you buy 2
Cerave Moisturizing Lotion, 12 oz $12.99
Use $3/1
Final Price: $9.99 each
Colgate Optic White Toothbrush + Whitening Pen $14.99
Use $3/1
Final Price: $11.99 each
Schick Hydro Refill, 4 ct $15.99
Use $2/1
Final Price: $11.99 each
You might also like: