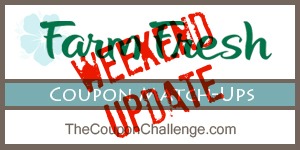 Get your weekend update for Farm Fresh $1 doubles today, Sunday! Don't forget about the weekly Facebook coupon valid through today – a FREE 7.2 oz bag of Pretzal Chips with an additional $10 purchase!
Don't forget to check all your weekly ad and monthly ad coupon matchups before shopping.
Let me know if you find other deals or have corrections!
Dollar Coupon Final Prices Assume

Shopping

on Wednesday or Sunday. Add $1 all other days of the week.
Double $1 coupons are on Wednesday & Sunday ONLY.
Double coupons up to and including $0.99 everyday.
Limit 2 like coupons per shopping visit.
Limit 20 coupons doubled per person per day.
B1G1 items ring at half price.
Doubles not allowed on coupons that state "Do Not Double".
Farm Fresh Military Discount Policy – Present a Military ID for 10% off Farm Fresh Family Brand Products everyday
Bring your reusable shopping bags for $0.05 off per bag
Learn about Using SavingStar Coupons at Farm Fresh
Get the Farm Fresh Coupon Policy
Red Plum
Minute Rice Gluten Free Multi-Grain Medley, 12 oz $2.59
Use $1/1
Final Price: $0.59 each
Barilla Pasta, 16 oz $1.49
Use $1/4
Final Price: $0.99 each, when you buy 4
Barilla Entree, 9 oz $2.79
Use $0.75/1 OR $1/2
Final Price: as low as $1.29 each
Crest Mouthwash, 8.40 oz $3.49
Use $1/1
Final Price: $1.49 each
Horizon Organic Mac & Cheese, 6 oz $2.49
Use $1/2
Final Price: $1.49 each, when you buy 2
Garnier Fructis Shampoo, 13 oz $3.99
Use $1/1
Final Price: $1.99 each
SuperPretzal, 13 oz $3.39
Use $1/2
Final Price: $2.39 each, when you buy 2
Gain Fabric Softener, 51 oz $4.49
Use $1/1
Final Price: $2.49 each
Tide Pods, 14 ct $5.49
Use $1/1 OR $2.50/2
Final Price: as low as $3.49 each
Garnier Fructis Scrub, 5 oz $5.99
Use $1/1
Final Price: $3.99 each
Garnier Nutrisse Haircolor, $7.99
Use $2/1
Final Price: $5.99 each
Glad Trash Bags with Febreze, 40 ct $8.49
Use $1/1
Final Price: $6.49 each
Garnier Olia Oil Powered Haircolor, $8.99
Use $2/1
Final Price: $6.99 each
Smart Source

Mueller's Angel Hair Pasta, 16 oz $1.59
Use $1/2
Final Price: $0.59 each, when you buy 2
Ken's Dressing, 9 oz $1.69
Use $1/2
Final Price: $0.69 each, when you buy 2
Jell-O Pudding, 4 pack $2
Use $1/2
Final Price: $1 each, when you buy 2
Purely Fancy Feast Gourmet Cat Food, 2 oz $1.50
Use $1/4
Final Price: $1 each, when you buy 4
Xtra Detergent, 75 oz $2.50
Use $1/2
Final Price: $1.50 each, when you buy 2
Nabisco Crackers, 9 oz $2.50
Use $0.75/2
Final Price: $1.75 each, when you buy 2
Mitchum Deodorant, 2.25 oz $3.79
Use $1/1
Final Price: $1.79 each
Kleenex, 68 ct $1.99
Use $0.30/3
Final Price: $1.79 each, when you buy 3
Kraft Cheese Singles, 12 oz $2.50
Use $0.60/2
Final Price: $1.90 each, when you buy 2
Nutella Mini Cups, 10 ct $3.59
Use $1.50/1
Final Price: $2.09 each
Air Wick FreshMatic Refill, 1.42 oz $4.99
Use $2/1
Final Price: $2.99 each
Rave Hairspray, 11 oz $3.69
Use $0.50/1 (DND)
Final Price: $3.19 each
Ken's Dressing, 16 oz $4.19
Use $1/2
Final Price: $3.19 each, when you buy 2
Tyson Nuggets, 32 oz $4.99
Use $0.75/1
Final Price: $3.49 each
Cottonelle Flushable Cleansing Cloths, 84 ct $4.79
Use $0.50/1
Final Price: $3.79 each
Clairol Nice N Easy Hair Color $6
Use $2/1
Final Price: $4 each
Biore Pore Strips, 8 ct $6.99
Use $1/1
Final Price: $4.99 each