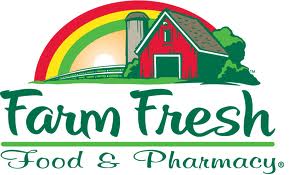 Farm Fresh coupon matchups are done! Finally, FREE yogurt! 
Let me know if you find other deals or have corrections!  My brain is a bit fuzzy this morning from all my cold medicine.
Look for the New Years' Essentials Savings Booklet for $55 in coupons (I hope my store has them now)
Dollar Coupon Final Prices Assume Shopping on Wednesday.  Add $1 Thurs-Tues.
Perdue Skinless Chicken Breasts $1.99lb
Artic Shores Extra Lg Shrimp $5.99lb
Jumbo Crab Clusters $6.99lb
Clementines (5lb box) $4.99
Navel Oranges $1 lb
Pink Grapefruit $1lb
White or Russett Potatoes B1G1
Mushrooms $1.50
Meal Deal
Purchase one Stockman & Dakota Chuck Roast $3.99lb, Stockman & Dakota Beef Bottom Round Roast $3.99lb or Smithfield Center Cut Pork Roast $3.49lb (minimum 3lbs), Get Whole Carrots Bag and Celery FREE with in-ad coupon.
Healthy Choice and Marie Callendars Meals $2
B5G1 Healthy Choice Frozen Meal, exp. 2-28-11 (SS 01/02/11 #2)
$1/2 Healthy Choice Steaming Entrees, exp. 3-27-11 (ALL YOU Jan '11)
$1/2 Healthy Choice Fresh Mixers, exp. 3-27-11 (ALL YOU Jan '11)
$1/2 Healthy Choice Fresh Mixers, exp. 3-27-11 (ALL YOU Jan '11)
$1/1 Marie Callender's Fresh Flavor Steamers printable
Final: as low as FREE or 2/$2 (depending on varieties included)
Kens Salad Dressing $2
$1/2 Ken's Dressing, exp. 2-28-11 (RP 01/09/11)
Final: 2/$2
Nasoya Tofu $2.99
$1/1 Nasoya Product, exp. 1-31-11 (RP 10/17/10) I didn't get
Final: $0.99 each
Cascadian Farms Cereal or Granola $3.99
$1/1 Cascadian Farm Product printable (register)
Final: $1.99 each
Larabar Nutritional Bar $1
$1/4 Larabar or Jocalat Bar printable
Final: 4/$2
Frigo String Cheese $3.69
$1/1 Frigo String Cheese printable (thank, Lori)
$1/1 Frigo Cheese Heads String Cheese, exp. 1-31-11 (SS 10/03/10) I didn't get
$0.50/1 Frigo Cheese, exp. 3-31-11 (SS 12/12/10) I didn't get
Final: $1.69 each
Red Baron Single Serve Pizzas $3.50
$1/2 Red Baron Singles, exp. 1-24-11 (SS 11/14/10)
Final: 2/$5
Dannon Adult or Kids Yogurt $2
$1/1 Activia Product, exp. 2-6-11 (SS 01/09/11 #2)
$1/1 DanActive Multipack, exp. 2-1-11 (SS 01/09/11 #2)
$0.55/1 Dannon DanActive printable
Final: as low as FREE
DanActive not included in sale-that's a first
Lightlife Frozen Entree $3
$1/1 Lightlife Veggie Entree, exp. 2-28-11 (SS 01/02/11)
Final: $1 each
Mueller's Pasta $1.25
$1/2 Mueller's Product, exp. 1-31-11 (SS 01/02/11)
$1/1 Mueller's Pasta printable register-PDF
Final: as low as FREE
Campbell's V8 Vegetable Juice $2.79
$1/2 V8 100% Vegetable Juice printable
$0.60/2 V8 100% Vegetable Juice, exp. 2-13-11 (SS 01/02/11)
$0.50/1 V8 Low Sodium Vegetable Juice, exp. 2-13-11 (SS 01/02/11) (if included)
Final: possibly as low as $1.79 each
Hanover Green Beans $2.59
$1/2 Hanover Canned Green Beans, exp. 1-31-11 (RP 12/12/10)
Final: 2/$3.18
(expensive)
Van Camp's Beans $0.79
$1/4 Van Camp's Beans, exp. 3-31-11 (ALL YOU Jan '11)
Final: 4/$1.16
Keebler Townhouse Crackers $3.69
$1/2 Keebler Crackers, exp. 2-6-11 (RP 12/12/10)
Final: 2/$5.38
Keebler Club Crackers $3.69
$1/2 Keebler Crackers, exp. 2-6-11 (RP 12/12/10)
Final: 2/$5.38
Splenda $3.99
$1/1 Splenda Product printable
B1G1 Splenda from (SS 1/9/11 #2) (thanks, Lisa!)
Final: $1.99 each or 2/$3.99
Sensodyne Toothpaste $4.99
$1/1 Sensodyne ProNamel Toothpaste, exp. 3-31-11 (RP 01/02/11)
$0.75/1 Sensodyne Toothpaste, exp. 3-31-11 (RP 01/02/11)
Final: as low as $2.99 each
Carnation Breakfast Essentials $3.99
$1/1 Carnation Breakfast Essentials Product, exp. 2-13 (SS 01/02/11)
$1/1 Carnation Instant Breakfast Essentials Product printable
Final: $1.99 each
Garnier Hair Care $3.33
$1/1 Garnier Shampoo, Conditioner or Treatment printable
$1/1 Garnier Fructis Shampoo, Conditioner or Treatment printable
$1/1 Garnier Fructis Style Product printable
$1/1 Select Garnier Fructis Products, exp. 1-15 (RP 12/5/10)
Final: $1.33 each
Degree Deodorant or Body Spray $3.99
$1/2 Degree Fine Fragrance Collection Mist or Stick Product printable (register)
Final: 2/$5.98
Nature Made Vitamins B1G1
$1/1 Nature Made Multivitamin, exp. 1-31-11 (SS 01/02/11 #2)
$1/1 Nature Made Vitamin B, exp. 2-28-11 (ALL YOU Jan '11)
Final: varies
Arm & Hammer Laundry Detergent $3.69
$1/2 Arm & Hammer Laundry Detergent printable
Final: 2/$5.38
Energizer Batteries $5.99
$1/1 Energizer Batteries or Flashlight, exp. 2-28-11 (SS 01/02/11 #2)
$1/1 Energizer Batteries or Flashlight, exp. 1-31-11 (SS 12/12/10)
Final: $3.99 each
College Inn Broth Cans $0.59
$1/4 College Inn Broth Cans, exp. 2-14-11 (RP 11/14/10)
Final: 4/$0.36
Maxwell House International Cafe $2.99
$1/1 Maxwell House Coffee or International Cafe (RP 11/14/10)
Final: $0.99 each
Friskies Canned Cat Food $0.40
$1 off 15 Purina Friskies Canned Cat Food printable
Final: 15/$4
Windex, Fantastik, Scrubbing Bubbles $2.69
$1/2 Windex Glass Cleaners, exp. 2-20-11 (SS 01/09/11 #2)
$1/2 Scrubbing Bubbles Bathroom Cleaners, exp. 2-20 (SS 1/9/11 #2)
$0.75/1 Fantastik All Purpose Cleaner, exp. 2-20 (SS 1/9/11 #2)
Final: as low as $1.19 each
Colgate Toothpaste $0.99
$1/1 Colgate Toothpaste, exp. 1-22-11 (SS 01/02/11 #2)
FREE
Pepcid $9.99
$2/1 Pepcid Product, exp. 4-30-11 (SS 01/09/11 #2)
$6/2 Zyrtec, Pepcid, Motrin or Precise, exp. 4-30-11 (SS 01/09/11 #2)
Final: $7.99 each
Banquet Fruit or Pies $0.79
B3G1 Banquet Fruit Pies, exp. 3-31-11 (ALL YOU Jan '11)
Final: 4/$2.37
Manwich $1
B3G1 Manwich Product, exp. 3-31-11 (ALL YOU Jan '11)
Final: 4/$3
Chef Boyardee $0.88
B4G1 Chef Boyardee Canned Pasta, exp. 3-31-11 (ALL YOU Jan '11)
$0.35/3 Chef Boyardee Pasta, exp. 2-28-11 (SS 01/02/11)
Final: 5/$3.52 or 3/$1.94-best deal
Wisk Laundry Detergent $7.99
$2/1 Wisk Laundry Detergent, exp. 2-13-11 (RP 01/02/11)
Final: $5.99 each
Athenos Hummus $1.99
$2/2 Athenos Hummus Product Facebook printable
Final: 2/$1.98
Triaminic Fever Reducer $4.99
$2/1 Triaminic Product printable
$2/1 Triaminic Product, exp. 2-12-11 (SS 12/12/10)
$3/2 Triaminic Fever Reducer, exp. 2-12-11 (SS 12/12/10)
Final: $2.99 each
Huggies Diapers $29.99
$3/2 Huggies Snug & Dry Diapers printable
$2.50/1 Huggies Snug & Dry Diapers printable
Similac Infant Formula $22.99
$3/1 Similac Infant Formula printable
Final: $19.99 each

Airborne Product $6.49
$1.50/1 Airborne Product printable
$1.50/1 Airborne Product printable
Final: $4.99 each
Kellogg's Meal Bars or Protein Shakes $4.88
$2/2 Kellogg's Special K Protein Products printable
$2/2 Select Special K Protein Products, exp. 2-27 (RP 01/02/11 #2)
Final: 2/$7.76
Finish Detergent $2.99
$2.25/1 Finish Quantum, Powerball/Gelpacs, exp. 2-21-11 (SS 01/02/11)|
$0.75/1 Finish Jet Dry Rinse Agent or Turbo Dry printable
Final: as low as $0.74 each
Butterball Turkey Bacon $2.99
$0.75/1 Select Butterball Sausage/Bacon, exp. 1-31-11 (SS 10/31/10)
Final: $1.49 each
Birds Eye Vegetables $2.50
$0.50/2 Birds Eye Vegetables, exp. 1-31-11 (SS 12/12/10)
Final: 2/$4
(expensive)
Campbell's Chicken Noodle or Tomato Soup $0.39
$0.40/3 Campbell's Condensed Soup, exp. 2-15-11 (SS 12/12/10)
Final: 3/$0.37
Carnation Evaporated Milk $1
$0.50/2 Nestle Carnation Evaporated Milk printable
Final: 2/$1
Pop Secret Popcorn $1.50
$0.50/2 Pop Secret Product, exp. 2-13-11 (RP 01/02/11) DND5
Final: 2/$2
Viva Paper Towels $6.49
$0.50/2 Viva Paper Towels printable
Final: 2/$
Cottenelle Bath Tissue $6.49
$0.50/1 Cottonelle Toilet Paper printable
$0.50/1 Cottonelle Toilet Paper printable
Final: $5.49 each
Scotties Tissues $1 (not available at all stores)
$0.50 off 3 Scotties Facial Tissues, exp. 2-15-11 (RP 01/09/11)
Final: 3/$2
Phillips Crab Cakes $7.99
$0.75/1 Phillips Crab Cakes, exp. 1-30-11 (SS 12/05/10)
Final: $6.49 each
Purchase 6 participating Kellogg's or Keebler items @ $2.50 each, Save $6 instantly at checkoutSelect Kellogg's Cereal
Nutrigrain bars
Cinnabon Bars
Pop tarts
Rice Krispies Treats
Keebler Cracker Packs
El Fudge
Right Bites
Sunshine Cheez-its
$1/3 Kellogg's Cereals, exp. 2-20-11 (RP 01/09/11)
$1/2 Select Kellogg's Cereals, exp. 1-16 (RP 12/05/10)
$1/2 Keebler or Sunshine 100 Calorie Snacks, exp. 3-6 (RP 1/9/11)
$1/3 Kellogg's Pop tarts printable

Purchase 2 participating General Mills Cereals, Get a coupon for a FREE box of Nature Valley Granola Bars at checkoutHoney Nut Cheerios $2.50
Lucky Charms $2.50
Cocoa Puffs $2.50
$1/2 Cheerios Cereal, exp. 2-19-11 (SS 01/09/11 #2)
$0.55/1 Honey Nut Cheerios Cereal printable (Target mfr.)
$1/2 Select Cheerios Cereals printable
$1/2 Cheerios: Original, Honey Nut, Frosted or Fruity printable
Reminder: Double $1 coupons are on Wednesday ONLY, double coupons up to and including $0.99 everyday. Limit 2 like coupons per transaction.  Limit 20 coupons per person per day. B1G1 items ring at half price.  Stores are no longer allowing doubles on coupons that state "Do Not Double". Get the Farm Fresh Coupon Policy
 Bring your reusable shopping bags for $0.05 off per bag
This post is part ofBeCentsAble's Grocery Gathering and Supermarket Social and Penny Pinching Bargain Bunch