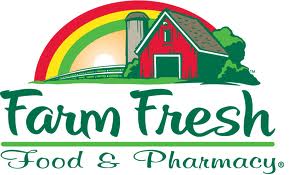 Farm Fresh coupon matchups are done!  I was done with the main ad at 7:30, but the extra insert always throws things off.  Lots of in-ad coupons this week.  These are all manufacture coupons, so they can't be combined with other coupons you may have.
Let me know if you find other deals or have corrections!
Dollar Coupon Final Prices Assume Shopping on Wednesday.  Add $1 Thurs-Tues.

Meats
Farm Fresh Split Chicken
Stockman & Dakota Beef Chuck Shoulder or Bottom Round Roast $2.49
Artic Shrimp $6.99lb
Produce
Red Seedless Grapes $1.49lb
Variety of Apples $0.99lb
Cucumbers $0.79 each 
Mango's $1
Purchase 5 Coke Product 12 pks in a single transaction, pay $2.60 each
Purchase 10 Participating drink products, save $5 instantly
could use B1G1 vitaminwater coupons previously available
Xtra Detergent $2.50
$1/1 Xtra Detergent printable (previously available)
Final: $0.50 each
Healthy Choice Cafe Steamers $3.33
$1/2 Healthy Choice Steaming Entrees, exp. 3-27-11 (ALL YOU Jan '11)
Final: 2/$4.66
Perdue Breaded Chicken $3
$1/1 Perdue Breaded Chicken printable
Final: $1 each
Birds Eye Steamfresh Vegetables $1.25
$1/3 Birds Eye Vegetables, exp. 3-13-11 (SS 01/23/11)
$0.50/2 Birds Eye Vegetables, exp. 1-31-11 (SS 12/12/10)
Final: 3/$1.75
Buitoni Refrigerated Pasta & Sauce $3.69
$1/1 Buitoni Refrigerated Pasta or Sauce, exp. 3-31-11 (SS 01/02/11)
Final: $1.69 each
Tropicana Trop50 OJ $3.50
$1/2 Tropicana Trop50 Juice, exp. 3-15-11 (RP 01/02/11)
Final: 2/$5
Keebler Cookies $3.19
$1/2 Keebler Cookies printable
Final: 2/$4.38
(expensive)
Keebler Right Bites $2.99
$1/2 Keebler or Sunshine 100 Calorie Snacks, exp. 3-6 (RP 1/9/11)
Final: 2/$3.98
Campbell's V8 V-Fusion $2.99
$1/2 V8 V-Fusion Juice, exp. 2-13-11 (SS 01/02/11)
$1/1 V8 V-Fusion + Tea, exp. 2-13-11 (SS 01/02/11) (if included)
$1/1 V8 V-Fusion + Tea printable
Final: $0.99 each
Healthy Choice Soup $1.25
$1/2 Healthy Choice Soup, exp. 2-28-11 (SS 01/02/11)
Final: 2/$0.50
Post Cereal $2.50
$1/2 Post Cereal, exp. 2-20-11 (SS 01/09/11)
$1/2 Post Kids Cereal, exp. 2-20-11 (SS 01/09/11)
Final: 2/$3
Muellers Pasta $2
$1/2 Mueller's Product, exp. 1-31-11 (SS 01/02/11)
$1/1 Mueller's Pasta printable (register) *GONE*
Final: as low as FREE
Hunts Tomato Sauce $0.89
$1/3 Hunts Canned Tomatoes, exp. 3-13-11 (SS 01/23/11)
Final: 3/$0.67
coupon for diced or whole
Red Baron Pan or Pasta $5.50
$1/1 Red Baron Pan Pizza or Pasta, exp. 4-3-11 (SS 01/23/11)
Final: $3.50 each
Submit for Pan Pizza MIR
Rotel $1.19
$1/3  RO*TEL, exp. 3-13-11 (SS 01/23/11)
Buy 3 Rotel, Get 1 Hunts Tomatoes Free (ALL YOU Jan '11)
Final: 3/$1.57
Pam Cooking Spray $2.99
$1/2 Pam Cooking Spray, exp. 3-13-11 (SS 01/23/11)
Final: 2/$3.98
Kings Hawaiian $3
$1/2 Kings Hawaiian Product, exp. 2-28-11 (RP 11/14/10)
Final: 2/$4
Kikkoman Teriyaki and Soy $1.79
$1/1 Kikkoman Product printable
$0.55/1 Eggs w/ Purchase of Kikkoman Product, exp. 6-30 (ALL YOU Jan)
$0.55 off Eggs wyb Kikkoman Product, exp. 7-31 (RP 01/23/11)
FREE
Hunts Snack Pack Pudding $1
$1/4 Snack Pack Pudding, exp. 2-28-11 (SS 01/02/11 #2)
Final: 4/$2
Lightlife Entree $2.99
$1/1 Lightlife Veggie Entree, exp. 2-28-11 (SS 01/02/11)
Final: $0.699 each
Tony's Pizza $2.50
$1/2 Tony's Pizza printable
Final: 2/$3
Nestle Chocolate Chips $2.50
$1/2 Nestle Toll House Morsels printable
Final: 2/$3
Pantene and Head & Shoulders $5.99
$1/2 Pantene Product, exp. 2-28-11 (SS 01/23/11)
$3/2 Pantene Product, exp. 1-31-11 (P&G 12/26/10)
$2/2 Head & Shoulders Shampoo/Conditioner, exp. 1-31-11 (P&G 12/26/10)
Final: as low as 2/$8.98
Garnier Hair Care $5.29
$1/1 Garnier Shampoo, Conditioner or Treatment printable
$1/1 Garnier Fructis Shampoo, Conditioner or Treatment printable
$1/1 Garnier Fructis Style Product printable
$1/1 Select Garnier Fructis Products, exp. 1-15 (RP 12/5/10)
Final: $3.29 each
Garnier and Loreal Facial Care 15% off
$1/1 Garnier Cleanser or Moisturizer, exp. 6-1-11 (RP 01/09/11)
$2/1 Garnier Moisturizer or Cleanser, exp. 6-15-11 (RP 12/05/10)
$1/1 L'Oreal Skincare Product printable
$1/1 L'Oreal Skincare Product, exp. 3-20-11 (RP 01/23/11)
Final: varies
Covergirl 20% off
$1/1 CoverGirl Product, exp. 2-28-11 (P&G 01/16/11)
$1/1 CoverGirl Product, exp. 1-31-11 (P&G 12/26/10)
Final: varies
Loreal and Maybelline Cosmetics 20% off
$1/1 L'Oreal Paris Eye Cosmetic Item printable
$2/1 L'Oreal Paris Lash Boosting Serum, exp. 3-20-11 (RP 01/23/11)
$1/1 Maybelline Volum' Express The Falsies Mascara (RP 01/09/11)
$1/1 Maybelline Lipcolor, exp. 2-19-11 (ALL YOU Dec '10)
Final: varies
Natures Bounty Vitamins B1G1
$1/1 Nature's Bounty Product, exp. 3-4-11 (ALL YOU Jan '11)
$1/1 Nature's Bounty Vitamins, exp. 3-8-11 (RP 01/23/11)
$1/1 Nature's Bounty Your Life Multi printable
$1/1 Nature's Bounty Product printable
$1/1 Sundown or Marvel Vitamins, exp. 3-8-11 (RP 01/23/11)
Final: varies
ACT Mouthwash $4.49
$1/1 Act Product, exp. 2-16-11 (SS 01/02/11)
Final: $2.49 each
Delsym $8.99
$1/1 Delsym Children's or Adult, exp. 4-17-11 (SS 01/23/11)
Final: $6.99 each
Tums $3.69
$1/1 Tums Product printable
Final: $1.69 each
Robitussin $4.99
$1/1 Robitussin Product, exp. 2-28-11 (RP 01/02/11 #2)
$1/1 Robitussin Product printable
Final: $2.99 each
Friskies Dry Cat Food $4.49
$1/1 Purina Friskies Dry Cat Food, exp. 4-30-11 (SS 01/16/11)
Final: $2.49 each
Pedigree Dry Dog Food $14.99
$2/1 Pedigree Food for Dogs, exp. 2-28-11 (RP 01/23/11)
Final: $12.99 each
Arm & Hammer Cat litter $9.99
$3/1 Arm & Hammer Cat Litter, exp. 7-31-11 (ALL YOU Sept '10)
Final: $6.99 each
Rubbermaid 50% off
$1/1 Select Rubbermaid Products, exp. 2-19 (SS 01/02/11 #2)
Final: varies
Duracell Batteries $5.99
$1.50/1 Duracell CopperTop Batteries, exp. 1-31-11 (RP 12/12/10)
Final: $4.49 each
Got2Be Hair Care $4
$2/1 Got2Be Hair Styling Product, exp. 2-17-11 (ALL YOU Dec '10)
Final: $2 each
Playtex Tampons $4
$2/1 Playtex Gentle Glide Tampons, exp. 2-28-11 (SS 01/02/11)
Final: $2 each
BIC Disposable Razors $4.99
B1G1 Bic Disposable Shaver, exp. 2-6-11 (SS 01/09/11)
Final: 2/$4.99
Phillips Soups $5.49
$2/1 Phillips Product, exp. 2-28-11 (SS 01/02/11)
Final: $3.49 each
Green Giant Steamers $2
$0.50/2 Green Giant Valley Fresh Steamers, exp. 2-26-11 (GM 01/02/11)
Final: 2/$3
Huggies Diapers $9.99
$1.50/1 Huggies Snug & Dry Diapers printable
$2/1 Huggies Little Snugglers/Movers, exp. 2-19-11 (SS 01/23/11)
$2.50/1 Huggies Snug & Dry Diapers printable
Final: as low as $7.49
Huggies Wipes $5.99
$0.50/1 Huggies Baby Wipes, exp. 2-19-11 (SS 01/23/11)
Final: $4.99 each
Scrubbing Bubbles Toilet Gel $3.99
FREE Scrubbing Bubbles Brush wyb Toilet Gel, exp. 2-20 (SS 1/9/11 #2)
Final: $3.99 for both
Marie Callender's Bakes $5.49
$2/1 Marie Callender's Bakes, exp. 3-31-11 (ALL YOU Jan '11) newsstand edition
$1.50/1 Marie Callender's Bakes printable
Final: $3.49 each
Campbell's Condensed Soup $0.99
$0.40/3 Campbell's Condensed Soup, exp. 2-15-11 (SS 12/12/10)
$1/4 Campbell's Condensed "Great For Cooking" Soup printable
Final: 3/$2.17
Perdue Short Cuts $3
$0.75/1 Perdue Short Cuts Carved Breast Strips, exp. 3-6 (RP 1/9/11)
Final: $1.50 each
Ball Park Meat Franks $2.50
$0.75/2 Ball Park Product, exp. 3-6-11 (RP 01/23/11)
Final: 2/$3.50
Hillshire Farms Sausage $3.50
$0.75/2 Hillshire Farm Smoked Sausage, exp. 2-28-11 (RP 01/23/11)
Final: 2/$5.50
Pillsbury Toaster Strudel $2.50
$0.50/2 Pillsbury Toaster Strudel, exp. 3-26-11 (GM 01/02/11)
$0.50/2 Pillsbury Toaster Strudel Pastries printable
Final: 2/$4
Dove Heart Promises Candy $3
$0.55/1 Dove Promises Chocolate, exp. 12-26-11 (ALL YOU Dec '10)
Final: $1.90 each
Stonyfield Organic Yogurt Cups 10/$6
$0.50/3 Stonyfield Organic Yogurt printable
Final: 3/$0.80
Texas Toast $2.79
$0.40/1 Texas Toast, exp. 2-28-11 (SS 11/14/10)
Final: $1.99 each
Dole Fruit Bowls $2.50
$0.75/2 Dole Fruit Bowls, exp. 3-31-11 (SS 01/16/11)
Final: 2/$3.50
Pillsbury Cookie and Frosting $2
$0.40/1 Pillsbury Frosting or Brownie Mix, exp. 1-31-11 (RP 11/07/10)
$0.50/1 Pillsbury Cookie Mix, exp. 1-31-11 (RP 11/07/10)
Final: as low as $1 each
Pillsbury Brownies $2
$0.40/1 Pillsbury Frosting or Brownie Mix, exp. 1-31-11 (RP 11/07/10)
Final: $1.20 each
McCormick Grinders $1.99
$0.75/1 McCormick Spice or Herb, exp. 2-6-11 (RP 01/02/11 #2)
Final: $0.49 each
Chi-Chi's Salsa $1.50
$0.50/1 Chi-Chi's Salsa Jar or Snackers, exp. 3-13-11 (SS 01/16/11)
Final: $0.50 each
Must buy 2 in a single transaction, otherwise $2 each
Crest Toothpaste $2.50
$0.75/1 Crest Toothpaste, exp. 2-28-11 (P&G 01/16/11)
$0.75/1 Oral-B Toothbrush, exp. 2-28-11 (P&G 01/16/11)
Final: $1 each
Sunny Delight $3.29
$0.25/1 Sunny D Product, exp. 4-30-11 (SS 01/16/11)
Final: $2.79 each
Chex Mix $2
$0.50/2 Chex Mix or Chex 100 Calorie Snack, exp. 1-29-11 (GM 12/05/10)
$0.50/2 Chex Mix or Chex 100 Calorie Snack, exp. 2-26-11 (GM 01/02/11)
Final: 2/$3
Blue Diamond Almonds $3.49
$0.60/2 Blue Diamond Almonds, exp. 5-31-11 (SS 01/23/11)
Final: 2/$5.78
Malt-O-Meal Cereal $2
$0.75/1 Malt-O-Meal Cereal printable
Final: $0.50 each
Barilla Plus Pasta $2
$0.55/1 Barilla Plus, exp. 3-7-11 (SS 01/09/11) (I didn't get)
Final: $0.90 each
Brawny Paper Towels $9.99
$0.50/1 Brawny Product, exp. 3-7-11 (RP 01/23/11)
Final: $8.99 each
Purchase 4 participating GM products in a single transactions, pay $1.75 each
Products Include:
Select GM Cereals $1.75
$1/2 Cheerios Cereal, exp. 2-19-11 (SS 01/09/11 #2)
$0.55/1 Honey Nut Cheerios Cereal printable (Target mfr.)
$0.55/1 Cinnamon Toast Crunch Cereal printable (Target mfr.)
Final: as low as $0.65 each
Betty Crocker Fruit Snacks $1.75
$0.50/2 Betty Crocker Fruit Snacks, exp. 2-26 (GM 01/02/11)
$0.50/2 Betty Crocker Fruit Snacks printable
Final: 2/$2.50
Nature Valley Granola Bars & Nut Clusters $1.75
$0.50/1 Nature Valley Granola Nut Clusters printable (Target mfr.)
$0.75/2 Nature Valley Granola Bars/Nut Clusters, exp. 2-26 (GM 1/2/11)
$0.50/1 Nature Valley Granola Nut Clusters printable
Final: $0.75 each
Reminder: Double $1 coupons are on Wednesday ONLY, double coupons up to and including $0.99 everyday. Limit 2 like coupons per transaction.  Limit 20 coupons per person per day. B1G1 items ring at half price.  Stores are no longer allowing doubles on coupons that state "Do Not Double". Get the Farm Fresh Coupon Policy
 Bring your reusable shopping bags for $0.05 off per bag
This post is part ofBeCentsAble's Grocery Gathering and Supermarket Social and Penny Pinching Bargain Bunch