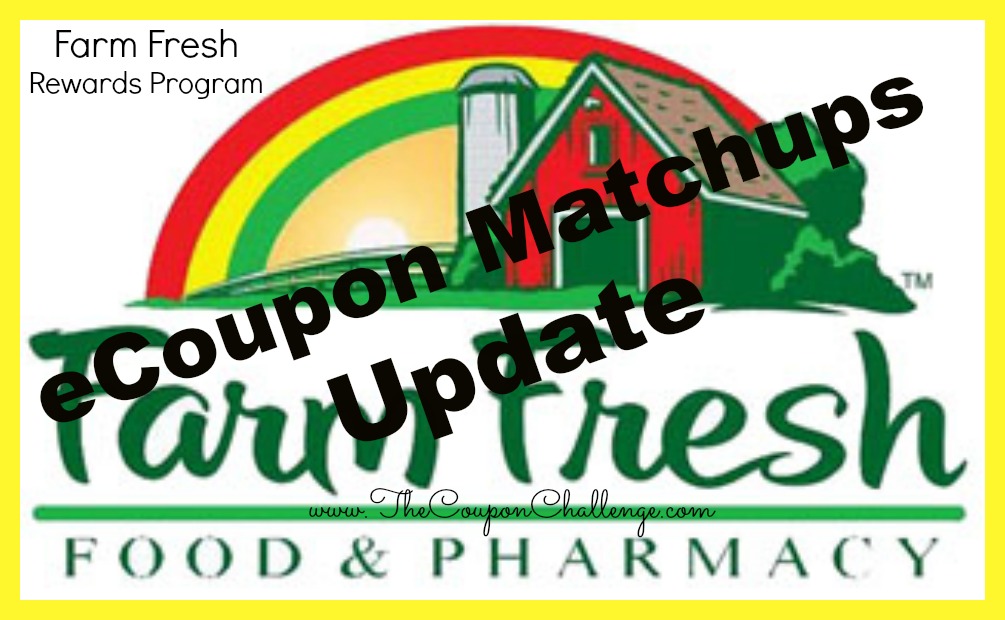 **Lots of new P&G e-coupons added!**
Farm Fresh recently implemented a new Rewards Program, which allows shoppers to stack manufacturer's coupons with the new digital coupons!  Make sure to to read all about the new Farm Fresh Rewards Program and how it works.
You must have a Rewards Account to use the eCoupon program.
eCoupons do not double.
eCoupons can be "stacked" with a paper manufacture coupon.
eCoupons can only be used once.
Always Xtra Protection Long Liners, 40 ct $3.99
Use $2/2 MQ, 5/3 P&G
Use $0.50/1 e-coupon
Final: $2.74 each, when you buy 2
Always Clean Wipes Tub, 40 ct $3.79
Use $0.50/1 MQ, 5/3 P&G
Use $0.50/1 e-coupon
Final: $2.29
Always Radiant Pads, 16 ct $4.99
Use $2/2 printable
Use $1/1 e-coupon
Final: $3.49 each, when you buy 2
Always Discreet Underwear, 15 ct $13.99
Use $2/1 printable
Use $2/1 e-coupon
Final: $9.99
Always Discreet Liners, 48 ct $5.99
Use $1/1 MQ, 5/3 P&G
Use $2/1 e-coupon
Final: $1.99
Bounce Dryer Sheets, 40 ct $2.69
Use $0.50/1 printable
Use $0.50/1 e-coupon
Final:$1.19
Bounty Paper Towels, 6 ct $8.99
Use $0.25/1 printable
Use $1/1 e-coupon
Final: $7.49
Country Time Lemonade Starter, 18.20 oz $3.89 (buy 2)
Use $1/1 MQ, 3/29 SS (use 2)
Use $1/2 e-coupon
Final: $1.39 each, when you buy 2
Crystal Light Lemonade Drink Mix, 1.40 oz (10 packets) $2.19 (buy 2)
Use $1/2 MQ, 4/26 SS
Use $1/2 e-coupon
Final: $0.69 each, when you buy 2
Charmin Double Roll, 16 ct $8.99
Use $0.35/1 printable
Use $1/1 e-coupon
Final: $7.29
Clairol Nice 'n Easy Hair Color, 1 ct $8.59
Use $1.50/1 printable
Use $2/1 e-coupon
Final: $5.09
Crest Toothpaste, 5.80-6.20 oz $2.99 (buy 2)
Use $1.50/2 printable
Use $1.50/2 e-coupon
Final: $1.49 each, when you buy 2
Crest Rinse, 16.90 oz $5.19
Use $1.10/1 printable
Use $0.75/1 e-coupon
Final: $3.34
Downy Liquid Fabric Softener, 51 oz $4.49
Use $0.50/1 printable
Use $0.50/1 e-coupon
Final: $2.99
Gerber Organic Pouches, 3.50 oz $1.39 (buy 8)
Use $2.50/8 printable
Use $2.50/8 e-coupon
Final: $0.77 each, when you buy 8
Gillette Clinical, 1.70 oz $8.59
Use $2/1 printable
Use $1.50/1 e-coupon
Final: $5.09
Gillette Deodorant, 4 oz $4.89
Use $1/1 printable
Use $1/1 e-coupon
Final: $1.89
Head & Shoulders, 13.50 oz $5.79 (buy 2)
Use $1/2 MQ, 5/3 P&G
Use $3/2 e-coupon
Final: $3.29 each, when you buy 2
Herbal Essences Shampoo, Conditioner, or Styling Products, 10.10 oz $4.19 (buy 3)
Use (1) $3/2 MQ, 5/3 P&G and (1) $1/1 printable
Use $5/3 e-coupon
Final: $0.86 each, when you buy 3
Ivory Bar Soap, 3 ct $1.49
Use $0.25/1 printable
Use $0.35/1 e-coupon
Final: $0.64
Old Spice Shampoo, 12 oz $4 (buy 2)
Use $1/2 MQ, 5/3 P&G
Use $2/1 e-coupon
Final: $2 each, when you buy 2
Swiffer WetJet $25.29
Use $3/1 MQ, P&G $3/1
Use $5/1 e-coupon
Final: $17.29
Tampax Radiant, 32 ct $6.99
Use $0.75/1 printable
Use $1/1 e-coupon
Final: $4.49
Tide Pods, 14 ct $5.49
Use $2/1 MQ, 4/12 RP
Use $1/1 e-coupon
Final: $2.49
Tide Detergent, 50 oz $7.99
Use $1/1 printable
Use $0.50/1 e-coupon
Final: $5.49
Venus Razor, $10.99
Use $3/1 MQ, 5/3 P&G
Use $3/1 e-coupon
Final: $4.99