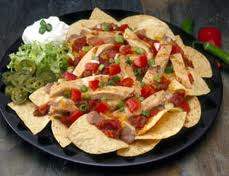 I noticed a ton of organic sales this week, so I thought I'd try to put together meals using organic ingredients for this weeks Farm Fresh meal idea.
Prices are based on the 03/09 Farm Fresh weekly ad.
Ingredients:
Culinary Circle Rotisserie Chicken $6.99
Wild Harvest organic Tortilla Chips $1.79
Wild Harvest organic Pinto Beans $1.50
Wild Harvest organic Salsa $2.59
Wild Harvest organic Soup $1.99
Richfood Cheese $2 (didn't see organic)
Taco Seasoning mix (I make my own)
Chicken & Pinto Bean Nachos
1. Shred part of the Rotisserie chicken.  Heat shredded chicken & mix with taco seasoning.  Add pinto beans and salsa & cook over medium heat until cooked through. 
2. Meanwhile, spread ~1/2 bag of tortilla chips on platter, add approx. 1/2 meat mixture on chips and sprinkle with cheese.  Layer remaining chips, meat mixture and cheese. 
3. Top with lettuce, tomatoes, olives, sour cream or other toppings as desired
For dinner the next night:
Soup and sandwich
Serve sliced Rotisserie chicken on sandwiches with organic soup. 
*Could use Kraft sandwich shop may for $1.89 (not organic) with remaining lettuce from nachos
Cost: $16.86 for 2 meals plus cost of toppings
Don't want chicken?  Ground Beef is on sale for $2.49lb
*I personal use ground turkey for my nachos
Photo credit: Lindsayfincher.com