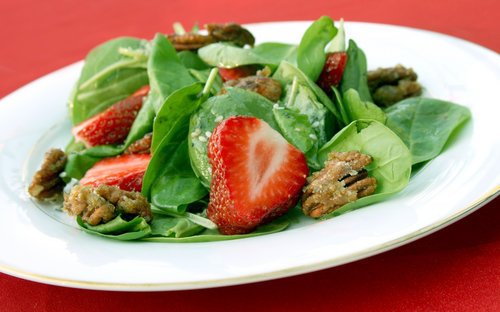 Do you want to try the best EVER salad?  You will literally want to lick the bowl after you try this recipe.  It is not a frugal recipe, but I love serving it when I can get all the ingredients on sale.  This salad pairs nicely with fresh fish.
Strawberry Spinach Salad
Dressing:
1 lemon
2 tablespoons white wine vinegar
1/3 cup sugar
1 tablespoon vegetable oil
Salad:
1/4 cup sliced almonds, toasted
1 1/2 cups strawberries,  quartered
1/2 medium cucumber, sliced and cut in half
1/4 small red onion, sliced into thin wedges
1 (6 ounce) package baby spinach
Directions:
Heat oven to 350° F.
Zest lemon to get about 1/2 teaspoon zest.
Juice lemon to get 2 tablespoons juice.
Combine zest, juice, vinegar, sugar & oil in small bowl.
Whisk until well blended
Refrigerate until ready to use.
Spread almonds in single layer over bottom of Small

Pan.

Bake 10 – 12 minutes or until lightly toasted. Remove from oven; cool.
Meanwhile, cut strawberries into quarters.
Remove seeds from cucumber and slice then cut slices in half.
Cut onion into thin wedges.
Place spinach in large serving bowl; add strawberries, cucumber and onion.
Whisk dressing; pour over salad, gently tossing to coat.
Sprinkle with almonds.
Serve immediately.
Price breakdown:
Lemon $0.79
Strawberries $2.49
Baking Classics Sliced Almonds $1 ($0.50)
Cucumber $0.79
Small Red Onion $1.49 (0.75)
Baby Spinach $2
Assume have other ingredients on hand
Approximate cost: $7.32
This is a recipe is adapted from the Pampered Chef Casual Cooking Cookbook
Photo Credit: Facebook