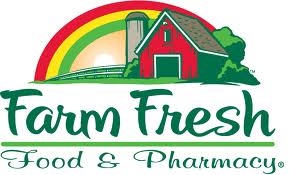 Farm Fresh will be having a Mega Coupon Event starting Sunday, July 24th and running though Tuesday, July 26th.  They will be doubling coupons up to and including $2!
**The original coupon matchups have been updated with a few new coupons and the final price has been changed where applicable.  Make sure to look for the cheap Tide Detergent and Pop Tarts!**
Please leave a comment with other deals you find
*Don't forget to get your coupon for FREE cantaloupe from Facebook!
Below are a few coupons that you may be able to use to score a great deal.  I'm unable to locate the prices on the online shopping, but some of the products I remember seeing in store.
From the 07/24 Smart Source insert
$1/1 Irish Spring Deodorant
$1/1 Colgate Wisp
$1/1 Spot Shot
$1/1 Carpet Fresh
$1/1 Skintimate Moisturizing Shave Gel
More coupons
$1.50/1 Skintimate Cream Shave printable
$1/1 Life Savers Mints 85ct bottle printable
$2/1 Allegra Allergy 5,12, or 15ct printable
$1.50/1 Millstone Coffee 10oz+ printable
$1/1 Rhodes Cinnamon Rolls printable
$1/1 Hershey's S'mores Dessert Icing, exp. 7/31/11 (SS 05/22/11)
$1/1 Oreo Ultimate Icing, exp. 7/31/11 (SS 05/22/11)
$1/1 French's Dijon Mustard, exp. 7-31-11 (SS 04/10/11)
$1/1 Lance Minis Facebook printable
$1/1 Lance Cracker Creations, exp. 8/14/11 (SS 06/05/11 R)
$1/1 Lance Cracker Creations printable
$2/1 Keri Lotion, exp. 10/31/11 (SS 07/17/11)
$2/1 Neutrogena Cosmetics (August All You)
$1.50/1 Butterball Turkey Burgers, exp. 8/31/11 (SS 06/26/11)
$1.50/1 Nylabone Non-Edible Chew, exp. 8/26/11 (SS 07/17/11)
$1.50/1 Scar Zone Product, exp. 7/31/11 (RP 06/05/11)