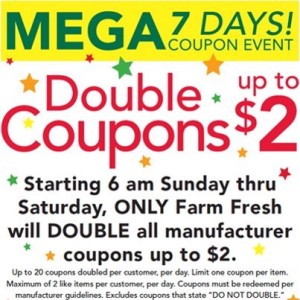 Farm Fresh is having a Mega Coupon Event starting Sunday (3/3) through Saturday (3/9)!! The great thing about the event is that it will cover 2 sale cycles giving you more chances to save!
The matchups below include prices from the 2/27 sale ad & regular priced deals. Some of these prices will no longer be valid after March 5th when the new ad is released. Additionally, I don't know what coupons will stick around for the event, so print the coupons you may want now!
Make sure to see the updated Farm Fresh Supermarket 2/27 Sale Ad for More deals here!
Double $2 coupons are on Sunday-Saturday ONLY.
Double coupons up to and including $0.99 everyday.
Limit 2 like coupons per transaction.
Limit 20 coupons per person per day.
B1G1 items ring at half price.
Doubles not allowed on coupons that state "Do Not Double".
Farm Fresh Military Discount Policy – Present a Military ID for 10% off Farm Fresh Family Brand Products everyday
Bring your reusable shopping bags for $0.05 off per bag
[%printable-list:FarmFreshMegaEvent3313%]
More Coupons:
1.00 off TWO (2) CRYSTAL LIGHT LIQUID Drink Mixes
$1.00 off FIVE (5) CAPRI SUN Big Pouch 11.2 fl oz
$1.00 off TWO (2) KOOL-AID LIQUID Drink Mixes
$1.00 off any ONE (1) Post Sesame Street Cereal
$1.50 off 1 Bottle of Zarbee's ADULT Cough Syrups
$1.00 off 2 LUNCHABLES Combinations with Smoothie
$1/1 Lunchables Lunch Combinations with Smoothie, exp. 4/14/13 (SS 02/24/13 R)
$1.00 off TWO (2) JELL-O Ready To Eat Puddings
$1/2 Dove Chocolate Large Bars printable
$1.00 off 1 MAXWELL HOUSE Single Serve Cups
$1.00 off one Reynolds Wrap Pan Lining Paper
$1/2 Happy Tot or Happy Baby Pouch printable
$2/1 Veet Product printable
$1.50/1 AZO Urinary Pain Relief printable
$1/2 Dial for Men Body Wash printable
$1/1 Maybelline New York Clean Express! Makeup Remover printable
$2/1 Depend Product printable
$1/1 Blink Tears Lubricating Eye Drops or Blink Gel Tears Lubricating Eye Drops printable
$2/1 Prevacid24HR Product printable
$2/1 Slo-Niacin Product printable
$2/1 Neo-Synephrine Product printable
$2.00 off any Breathe Right product
$1/1 Advil Congestion Relief or Advil Allergy and Congestion Relief printable
$2/1 Advil Congestion Relief printable
$1/1 PediaCare Product printable
$2.10/1 Centrum Flavor Burst Chews printable
$2/1 Centrum Flavor Burst Chews printable
$2/1 Allegra, Children's Allegra or Allegra-D printable
$1/1 Act Mouthwash or Mouthrinse printable
$2/1 Orajel Cold Sore Product, exp. 5/3/13 (SS 02/03/13)
$2/1 Midnite Regular, For Menopause or PM, exp. 8/31/13 (SS 01/20/13)
$2/1 Lysine Lip Care or Canker Cover, exp. 12/31/13 (Parade 02/03/13)
$2/1 Senokot or Senokot-S Tablets printable
$2/1 CoverGirl Lip Product, exp. 3/31/13 (RP 02/17/13)
$2/1 Alka-Seltzer Regular or Plus, exp. 3/31/13 (SS 01/06/13 #2)
$2/1 Bic Soleil Disposable Razor, exp. 3/3/13 (SS 02/03/13)
$2/1 ThermaCare Item, exp. 3/9/13 (RP 12/09/12)
$2/1 Triaminic Product printable