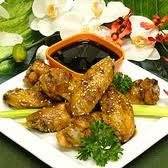 This weeks Farm Fresh recipe ideas are geared toward your Super Bowl party.  Sale prices are based on the Farm Fresh ad for the week of 02/02.
Hot Chicken Wings
12-15 chicken wings
1/2 c. (1 stick) butter or margarine, melted
1/4 c. Red Hot Sauce (or more to taste)
Price: ~$4.29
Split wings at each joint and discard tips. Bake in 425 degree oven until crisp, turn halfway through. Drain. Combine hot sauce and butter until butter is melted, stir to mix thoroughly. Dip wings in sauce to coat completely.
Teriyaki Chicken Wings
12-15 chicken wings
1/3 c. water
1/4 tsp. pepper
1/3 c. soy sauce
1/4 c. brown sugar
2 green onions (diced)
1/3 c. cooking sherry (optional)
1/2 tsp. ginger
Price: ~ $3.79
Combine all ingredients for marinade, heat just to dissolve sugar. Separate wings, pour marinade over. Refrigerate overnight. Place wings in greased pan. Pour marinade over, cover with foil. Bake for 30 min. at 375 degrees. Remove foil, bake 5-10 min. longer to crisp.
Sales:
FF Chicken Drumsticks & Thighs $1.49lb (~$3)
Green onions $0.79
Blue Bonnet Stick Butter $1.19 ($0.30)
Franks Hot Sauce $1.99 ($0.99)
$0.50/1 Franks Redhot Sauce, exp. 3-31-11 (SS 01/23/11)
Assuming you have other ingredients on hand
Looking for a healthier snack?  Try classic hummus with Tomato basil crackers or flavored hummus with veggies
Sabra Hummus B1G1 ($1.25)*
$1/1 Sabra Product, exp. 2-28-11 (SS 01/23/11)
Nabisco Crackers $2.50 ($2)
$1/2 from the 01/30 SS insert
Baby carrots $0.99
Celery $0.99
*I bought Sabra for $0.25 on Wednesday & the crackers would have been $1.50 each
Thanks Creative Homemaking for wing recipes
Photo Credit: Homecooking.com