I took my son to the doctor for his 3 year well visit this morning and found some coupons on the reception counter: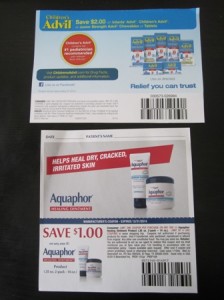 $2 off Infants' Advil, Children's Advil, or Junior Strength Advil Chewables or Tablets
$1 off any Aquaphor Product (.35oz. 2pack – 14oz.)
The best part about these coupons is that they have a loooong expiration date – the Advil is valid thru 12/31/2013 and the Aquafor is good till 12/31/2014.
I'll definitely hold on to these until a Super Double Coupon Event! It just goes to show that you can collect coupons anywhere 🙂 Coupons that have a long "release" date often have long expiration dates and higher values too. Check through your stash often so you don't forget about them.
If you find a great deal using these, come back and let us know, thanks!
Want more great coupons? Look here!