Where do I get coupons?  This is always a question that pops up when I'm chatting with people about coupons.   Coupons can be found just about everywhere these days.  The key is to always be on the lookout for coupons whether you're at home, work or running the kids to baseball practice.
Where to Get Coupons: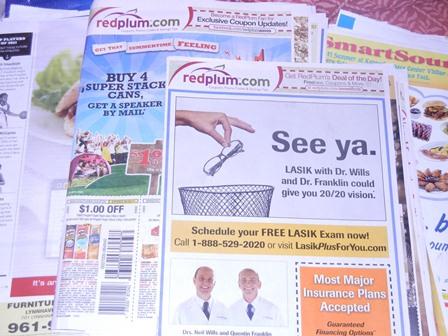 1.  Sunday paper: The newspaper is one of the best sources for coupons. There is typically 2 coupon inserts per week. SmartSource and RedPlum.  Proctor & Gamble will include a monthly insert and General Mills periodically includes coupon inserts as well.  I recommend getting multiple newspapers, so you can purchase multiple of the same products during a good sale (stockpile).  Find out where to get extra coupon inserts to maximize your savings.
2. Online: Your computer is a fantastic resource for printable coupons. The norm is for a site allowing 2 prints per computer. These coupons can change and may have a low print limit.  If it's a product you know you will use, I'd print quickly.  You will also find printable coupons on Facebook from a lot of your favorite brands.  A few of my favorite printable coupon sites are below:
Coupon Network
Coupons.com
RedPlum
SmartSource
3. In-Store: Inside stores can be a great resources for coupons.  Look along store aisles for "Peelies" on the product and Tearpads, coupon booklets or "blinkies" near items.  Remember that "blinkies" tend to be coded with a "9" so the coupon won't multiply.  Also, Catalina coupons may print from a Catalina machine next to the register at the end of your purchase.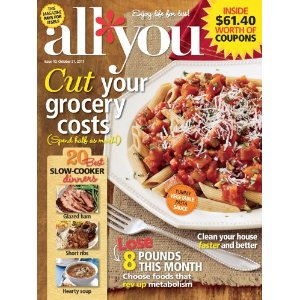 4. Magazines:  A lot of magazines now include some coupons. Good Housekeeping, Allure and All You Magazine are good sources. You can order a subscription to All You from Amazon or purchase at Walmart.  The Amazon price is only $1.66 per issue with a year subscription.  The Walmart price is $2.99 per issue, so you will save a significant amount of money by purchasing a subscription.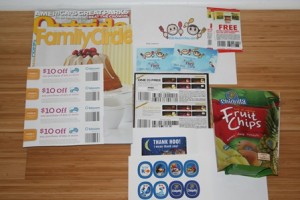 5. Mailers/Free samples: Signing up for free samples not only gets you a free product but a coupon usually comes along with the sample! Coupons from sample offers can be great to pair with a sale;  especially on products that don't see frequent coupons.  I've also noticed that these coupons will typically have a longer expiration date than other coupons.
6. Product Package:  Look inside the packages of purchased products to see if a coupon is available.  Often, the outside of the product package will advertise a coupon is inside the package, but not always.
7.  Physicians Office:  You can also find coupons at your physician or dentist office.  These aren't always for prescription savings.  I've found Crest coupons at my dentist and Tylenol coupons at my children's Pediatricians office.
8:  Email:  Signing up for a companies email newsletter (with your couponing email address) is a great way to get coupons on your favorite products.  Some coupons will be emailed out only to members or you'll get an email notifying you of the coupon location (ie. company website or Facebook page.)
9: Store Loyalty Cards: Some stores allow you to use electronic coupons (ecoupons).  These are digital coupons that you don't print.  They are electronically loaded onto your card or account.  Read more about How to Use Ecoupons and the added benefits of paperless coupons.
As you can see, coupons can be obtained from a wide variety of locations.  Now that you know where to find coupons.  Find out how to read coupons.
Next up: How to Get Extra Coupon Inserts
Where do you find coupons?

See all Coupon Basics Posts