It is important to familiarize yourself with coupon anatomy to be a successful coupon user. Today we will look at a manufacture coupon and learn how the coupon works and terminology used on the coupon.
It is important to note that you may only use 1 manufacture coupon per item.  If the coupon states to save X amount of dollars on 1 product,  you must purchase 1 item and only use 1 manufacture coupon.
How do you know you are looking at a manufacture coupon and not a store coupon?  It will say "manufacturer coupon" clearly on the top of the coupon.  Later in this post we will talk about coupon verbiage and images that may indicate a manufacture coupon is valid at a particular retailer.
The Expiration Date will also be prominently displayed on the coupon.  The coupon will be valid until the expiration date shown.  You CAN'T use a coupon that has passed it's expiration date.
The product image will help you identify the product.  However, the image is NOT necessarily an indicator of the product(s) the coupon is valid on.  You will want to read the coupon terms to identify all products you may purchase.  It is common for manufacturers to use a product image of the most expensive product.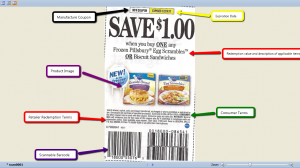 Redemption Value and Terms of the coupon states the value of the coupon and the terms of the purchase.   The terms are important for determining the type of product(s), how many products and what size you must purchase.   You will also find exclusions for size and variety.   A coupon that doesn't specify a size or exclude travel/trial sizes can be used on the smallest product size available and will make the most use of your coupon.
Occasionally, you will see coupons that may indicate a manufacture coupon is valid at a particular store.    It has become increasingly common to see manufacture coupons stating "redeemable at" a specific store or including a store logo on a coupon.  While these are still manufacture coupons and can be used anywhere, some stores will not accept coupons that mention or are "sponsored by" another store.
A coupon that states "redeemable only at" a specific store, may only be used at that particular store.
The image above shows a coupon to Save $1 when you buy ONE any Frozen Pillsbury Egg Scrambles or Biscuit Sandwiches.  You must purchase 1 of the 2 products listed and only use 1 coupon.  Size is not a factor because only one size is available for these 2 products.
Consumer Terms are terms included by the manufacture.  These terms can vary by the manufacture but may include:

Limit one coupon per purchase – you may only use one coupon per item.  If you want to use 3 coupons, you MUST have 3 products.
Limit one coupon per transaction – you can only use one like coupon per transaction. It is for this particular coupon, not that you can't use other coupons in the same transaction.  P&G has started limiting 4 coupons per transaction.  If you want to use 5 coupons, you will need to do a second transaction.
Limit one coupon per person – you may only use one like coupon per person.  You can't separate transactions.
Coupon valid for item indicated – This goes without saying, but you must adhere to the terms of the coupon to earn the redemption value stated.
Retailer Terms & Remit to information is meant for the retailer and tells them where to send the coupon for reimbursement.
The Barcode is one of the most important aspects of a coupon.  A manufacture coupon will have a scannable barcode.  The barcode will start with either a "5" or "9".
The barcode holds the key to the requirements of coupon redemption.  The "old" coupon contains 2 barcodes.  A short code called the UPC code (starts with the "5" or "9") and the long databar.  The UPC barcode is being fazed out and the Databar will remain with more detailed coding.
The reason for the change is all the recent coupon fraud.  The databar will eliminate human error & be harder for people to "crack the code".  The databar will contain specifics for expiration date, size, variety and more.  If a coupon states to purchase the 32oz French Vanilla flavored Nestle Coffee-Mate creamer, the coupon will not work on the 16 oz Hazelnut variety.  Period.
Read more about the Coupon Databar changes.
It has also become increasing common to see Do Not Double (DND) on a coupon.  The manufacture will not pay double (or triple) the coupon redemption value.  Many stores will not allow a coupon to double that states, Do Not Double.  If the coupon is coded with a "5" it will automatically double.  A coupon that starts with a "9" will not double.  However as I mentioned above, the UPC barcode will be going away.
Other items you may see:
Void if altered, copied, sold, transformed, purchased or exchanged or where prohibited or restricted by law –   This goes with last weeks post, You CAN'T Photocopy a Coupon.  Also, you shouldnot sell or pay for a coupon.
Cash Value 1/100 Cents –  the coupon has no cash value.
Consumer pays sales tax – you are required to pay sales tax on the product price..
Up Next: Take a look at the security features seen on a printable coupon.
See all Coupon Basics Posts