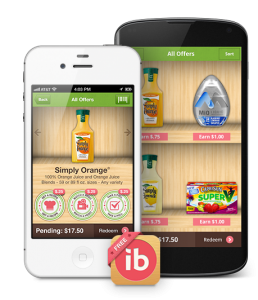 Sign up for ibotta here to start saving!
Have you heard of Ibotta?
Ibotta is an iPhone and Andriod App that allows you to earn money by purchasing products, watching videos, taking polls and competing other activities. It is easy to use and your earnings are given to you as a rebate into your Ibotta account (sort of like SavingStar).
You can earn $20 or more each time you go shopping. The more you use it, the better and more personalized your offers become.  You don't need to show your smartphone or scan a card at checkout.  You will simply take a picture of your receipt as verification of purchasing the offer.
All new users who sign up for Ibotta can each earn $2 if they redeem 2 offers within the first 2 weeks of registering for Ibotta. New Bonuses can be revealed at any time; users will uncover hidden surprises as they use the app. Go to the Main Menu in the app and select Bonuses. Users can tap on the specific Bonuses to reveal instructions and earning levels.
Ibotta has been upgraded with new Bonuses and Store Extras.  PLUS, if you haven't signed up for ibotta, you can get the $2 Newbie Bonus!!!  I personally use ibotta and have saved money on items that I don't usually have coupons for AND have even combined paper coupons with ibotta deposits for even more savings!!!
$.50 April Showers
"Quick! Redeem any 4 offers by the end of April and earn an extra $.50." Once
you earn April Showers, you will unlock another exciting Bonus.
$1.00 Steady Eddy
"Redeem at least 1 offer each week for 4 weeks in a row. The Bonus clock starts
on Monday of every week. Remember not to miss a week or the clock restarts
all over again!"
$1 Coke-Walmart April Challenge
"Redeem all 4 Walmart Store Extras by the end of April and earn $1.00 Extra."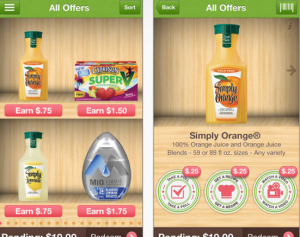 How to get the most out of Ibotta:
Before shopping, check for offers on your favorite products.
After shopping, take a picture of your receipt to earn cash.
Every time you redeem an offer, we'll send a new one. Tell us your likes and dislikes and we'll send you personalized offers.
Pamper yourself with the cash or donate it to any school in America.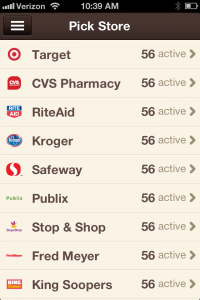 What Stores Participate in Ibotta?
There are numerous stores that you can shop at to redeem the Ibotta offers.  A few the stores include: CVS, Harris Teeter, Kroger (and affiliates), Rite Aid, Target, Walgreens, & Walmart.  See a list of participating ibotta stores here.
What are the Redemption Limitations?
There is no limit on the number of offers you can redeem.  Once you have successfully redeemed an offer, Ibotta immediately restocks your shelf with a new offer.  Please note that all of products featured are for single purchase and no additional credit will be awarded for multiple purchases of the same product.
What is the Payout to Withdraw Cash?
Once you've redeemed offers totaling $5 or more, Ibotta lets you transfer your earnings directly to your PayPal account. You can also donate to your favorite school in lieu of redeeming cash for yourself.
See a list of current Ibotta coupons available in the Coupon Database!  There are great offers from Coca-Cola, Keebler, Dove and more!
*Make sure to confirm your account via email!
Do you use Ibotta?  Share your tips and experiences!