I've been talking about all types of coupons, but What is a Catalina Coupon?
A Catalina is a coupon printed at the register from a Catalina machine when a participating product(s) is purchased.  The Catalina machines are little printers next to the register (shown below).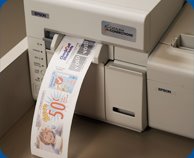 There are several ways to earn a Catalina coupon or CAT: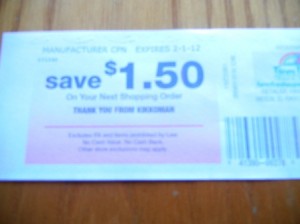 Purchase X amount 0f products and earn X dollars off your next purchase.  You will need to purchase a specific number of participating products or a specific dollar amount of products to trigger the Catalina.

Buy 2 Kikkoman soy sauce and get $1.50 off your next purchase, buy 3 and get $2 off your next purchase OR
Purchase $30 of participating Proctor &  Gamble products and earn $10 off your next shopping trip

These coupons are great because you can use them to help save on items where coupons are rare such as milk and meat.

Purchase X products to receive a FREE product on your next shopping trip.  You need to purchase a specified number of products to either receive a coupon to get a free product or to get money off of a specific product(s).

Purchase 4 participating General Mills Cereals and get FREE Milk (coupon printed at register).  You must purchase the 4 boxes of applicable cereal then you will get a Catalina coupon at checkout for FREE milk.  You can't get the milk free in the same transaction.

Targeted Marketing Catalina's are manufacture coupons that are triggered by your purchase of a product.  These aren't money off a total purchase, these are actual manufactures coupons for money off a specific product.  You will notice these are manufacture coupons and with a store logo.  Since they are manufacture coupons (the barcode will start with a 5 or 9) then you may use them at other stores.  Check your store coupon policy to see if this is allowed at your location.

Purchase Bumble Bee Tuna and have a Catalina coupon print to save $0.50/2 Starkist Tuna Pouches.
Please read the fine print of each Catalina coupon.   The Catalina coupon may be money off a total purchase or a specific product and will likely exclude alcohol, tobacco, gift cards and prescriptions.  As with all coupons, you must adhere to the coupon guidelines for redemption.

How do you know in advance if a Catalina will print?
I am constantly surprised at the store when a Catalina offer prints for a purchase.  While the weekly ad for promo's is a good place to look, you can also check Coupon Network YourBuck Offers.  Advanced notice can also be found in the form a non-redeemable Catalina coupon.  Occasionally, you will have a promotional notice print from the Catalina machine.  These notices will tell you the promotion dates, participating products as well as the number of products required to received a CAT.
What if a Catalina Doesn't Print?
First, make sure your total purchase meets the required amount.  Purchasing $29.99 of P&G products, isn't the same as purchasing $30 worth of products for the promotion.  Next verify size and varieties as part of the promotion.  If these are correct, head up to customer service and see if they will manually print the Catalina offer for you.
Recently, my local stores Catalina Promotions have specifically stated "total after manufacture coupons."  While the Catalina is still triggered by the register when you purchase the amount of products before coupons, customer service won't print a CAT for you in this case.
You can also call Catalina Marketing at 1-888-8COUPON (1-888-826-8766) or via email at  [email protected]
Head off problems by triple checking your purchase,  looking for the green light on the Catalina Machine and asking if the machine has paper before your purchases are scanned.
Remember that errors can occur with both coupon user and store coding.   Keep your cool with the cashier and customer service rep and most likely you can get the money you were expecting.
Catalina's are a fantastic way to maximize your budget, so enjoy these extra savings!
Next Up: How to Use Ecoupons

See all Coupon Basics Posts