Food Lion stores are pretty much everywhere in my area.  You'll find a Food Lion on what seems like every corner in every city.  While Food Lion doesn't not double coupons, they do have good sales and promo's that can save you money.
How to Save Money at Food Lion:
1.  Sign up for an MVP card:  In order to get sale prices, you need to sign up for a free MVP card and scan it or provide your phone number when you check out. You will be charged full price for the item without your MVP card!

2. MVP kiosk: Swipe your MVP card or enter your phone number at the MVP kiosk (located in the front of most stores), to get personalized coupons.  These coupons are based on your preferences and past purchases, so they should be for products you use everyday.  Be sure to look at the expiration date of these coupons after printing.  Some coupons are only valid for one day and others are valid for a few weeks or more.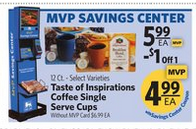 3. Use coupons:  Food Lion accepts manufacture coupons from newspapers, magazines, flyers and more.  They will also accept internet printables with the exception of "free" product printables. Please note that Food Lion does not allow "stacking." A store coupon can't be combined with a manufacture coupon.
4. Coupon Hub:  Food Lion offers online coupons that you can load to your card with one click. These coupons will automatically be deducted at the register with a qualifying purchase.
5. Use eCoupons:  Food Lion participates with SavingStar, UPromise and ibotta.  You can also use other coupon apps such as Checkout 51, BerryCart and Snap. These coupon offers allow you to get cash back on your purchases.  Some programs even allow you to "double dip" on savings!
6. Catalina machine coupons:  Watch for coupons to print at the register.   These Catalina coupons will save you money on products and alert you to future promotions.
7. In-store coupons:  Find coupons throughout the store.  These coupons can be tearpads, blinkies or peelies.  The great thing about Food Lion blinkie coupons is they are typically not "do not double" or coded with a "9".  That means the coupons will double at other stores!
8. Rebates Galore:  Browse the beer aisle of your local store and go rebate hunting.  These rebates typically don't require an alcohol purchase, and offer savings on meat, party food and more.
9.  Watch for Promo's:  Food Lion offers a lot of promo's in their weekly ad.  Additionally, a few times per year Food Lion offers a "Big Deal Sale" and "Store Brand sale".   These promo's offer great savings and are the perfect time to "stock-up" on items such as canned vegetables.  You can also take advantage of promo's around the holiday's.  Typically the promo requires you to shop 6 out of 8 weeks spending a specific amount each week.  You will then get a ticket to purchase holiday meal item(s).

10. Food Lion weekly email:  Sign-up to get the  MVP Weekly Specials email.  The ad will be sent to your inbox each week with personalized sale items and additional ways to save.  Make sure to be on the lookout for emailed coupons to save on everyday purchases such as meat and produce.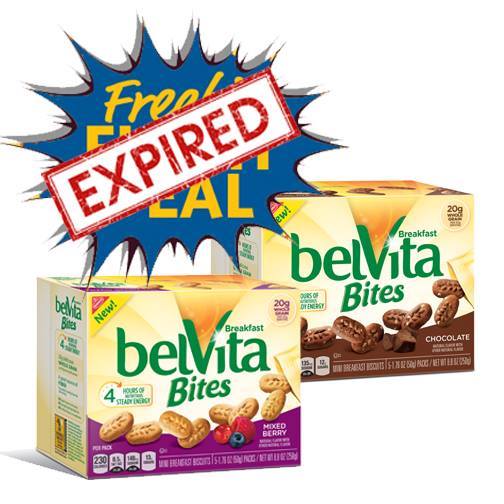 11. Follow Food Lion on Facebook: Food Lion has an active Facebook page.  Watch their page for the Freebie Flash Deal.  Once the deal goes live, follow the link, enter your information, hit submit, and your free offer would be loaded to your MVP card in 24 hours.
12. Get the App: If you do everything on your cell phone, download the Food Lion App to get your weekly specials and recipes.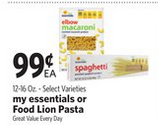 13. Store Brands:  Save money with the my essentials, Home 360 and Natures Place brands.  Store brand products are available for food, cleaning products, pet food, diapers, organics and toiletries for less than the national brands.  Give these products a try with a "double your money back guarantee."
14. Hunt for markdowns or closeout sale:  Look for markdown stickers in your local store.  You can usually find good markdowns on products in the meat and refrigerated sections in particular.  Bonus if you have a coupon to pair with the extra savings!

15:  Take advantage of Buy 1 Get 1 Free sales:  Sales advertised as B1G1 will save you 50% off the product price!  Since each product rings at half-price, you don't need to purchase two.  A coupon can also be used with each product.
16. Get a raincheck:  If the item you want to purchase is out of stock, get a raincheck.  This will allow you to purchase the product later once the sale has ended and products are restocked.  There is no official Food Lion Raincheck policy; however, at most stores the raincheck never expire.
17. Use weekly coupon matchups:  Food Lion coupon matchups are posted each week here on The Coupon Challenge.  All the work is done for you.  The available coupons are already matched with the sale ad to help you save!  These matchups are also available through the Favado App on your smartphone.
18. Bonus – MVP Classroom:  Link your MVP to your local school and the amount you spend on qualified items is automatically credited to the local school and or charity.  This doesn't save money on your grocery bill, but it does help support local schools and community organizations.
View the Food Lion coupon policy and keep a copy in your binder to reference when shopping.
Do you have other tips to save money at Food Lion?
You might also like:
How to Save Money at Farm Fresh & How to Save Money at Harris Teeter.