Farm Fresh is one of my favorite stores to save money. Take a look at these tips & tricks on how to save money at Farm Fresh Supermarkets to keep more money in your pocket at the grocery store.
One of the best features about Farm Fresh is $1 double coupons on Wednesday and Sunday. While using coupons is one of my favorite ways to save, there are countless other ways to save at Farm Fresh – no scissors required!
How to Save Money at Farm Fresh:
1.  Farm Fresh doesn't require you to use/have a store loyalty card to save.  The price you see marked is the price you will pay regardless of scanning a card.
2.  Farm Fresh doubles coupons up to and including $0.99 everyday!  This means that a $0.75 off coupon is worth $1.50 every day of the week!
3.  Shop on Wednesday's or Sunday's during $1 doubles! This is one of aspects of the coupon policy that sets Farm Fresh apart from other retailers. Every Wednesday and Sunday those $1 coupons will be worth $2!!  I always plan my shopping trips on these days.  If you need other coupon items, you can shop any other day of the week and still get coupons up to $0.99 doubled.
4.  You need to familiarize yourself with the Farm Fresh coupon policy to maximize your savings and ensure you are following all the rules set forth by Farm Fresh Corporate. The basic information in the coupon policy is below:

Double $1 coupons are on Wednesday and Sunday ONLY.
Double coupons up to and including $0.99 everyday.
Limit 2 like coupons per shopping visit.
Limit 20 coupons doubled per person per day.  You can use more than 20 coupons, but only the first 20 will double.
B1G1 items ring at half price, so you can only purchase one and get the item 50% off.
Doubles not allowed on coupons that state "Do Not Double".
Doesn't accept competitors coupons – "

Coupons

generated by any competitor with competitor logo are considered competitor coupons."  IF that coupon has a Walmart logo printed on it, you can't use it.
Farm Fresh does accept coupons that state "redeemable at x retailer," however, we do not accept manufactures coupons that states " ONLY redeemable at x retailer."
The coupon redemption value on 'Free' coupons may not exceed the value of the item.  Farm Fresh will reduce the coupon value, but won't give cash back.
Doesn't accept internet printables for free products; however B1G1 free is acceptable.
5.  Use the weekly sale ad to find new sales each week.  Here on The Coupon Challenge, I list each item in the weekly sale ad and pair items with coupons so you can save without all the extra work!   Check the items you want to purchase, make an extra notes (such as to buy milk), print and shop.  You can also email the list to yourself.  You can see the Farm Fresh Ad coupon matchups for all the deals.
6.  Take advantage of the savings inside the monthly Fresh Ideas Booklet.  I also do coupon matchups post when the new booklet comes out.  You'll find the printable list of ALL the sales in the booklet as well as the coupon matchups for those items.  You'll find recipes throughout the booklet and you might find coupons printed in the booklet as well!  These are located in-store and you will find the ad online. However, you will need to clip the coupons from the in-store booklet.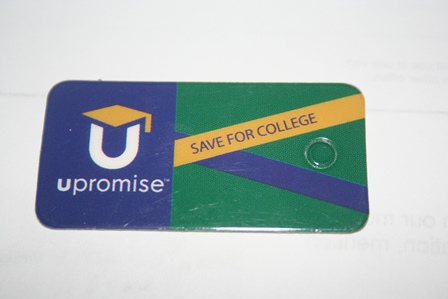 7.  Farm Fresh participates in the SavingStar and Upromise savings programs.  However, since Farm Fresh doesn't have a loyalty card, you will need to get a Upromise keytag from customer service and have it scanned during each shopping trip. Learn about Using SavingStar Coupons at Farm Fresh.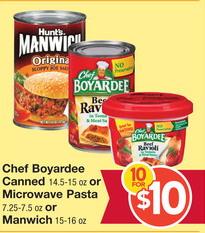 8.  Farm Fresh has a lot of 10 for $10 promo's.  These are great because you get the product for $1.  Unless specifically specified in the ad, you don't need to purchase 10.  Each item is $1 regardless of the quantity.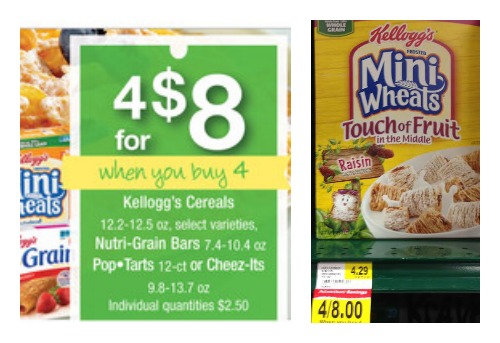 9.  You will also find a lot of promos where you are required to purchase a specific number of items to get a lower price.   For instance, 4/$8 promo is when you must by 4 participating items to pay $2 each.  IF you don't purchase in quantities of 4, then you will pay $2.50 each.  These items will specifically be marked in-store and in my Farm Fresh deals to purchase the required amount.  If you don't see a price when you purchase X, then you can just purchase one.
Since Farm Fresh tends to make make a lot of price stickers 2/$5 and the like, this can be confusing for some people.  The items when you must purchase a specific amount will always be listed.  Unless you see the requirement, just assume you can buy 1 (like in the 10/$10 promo's).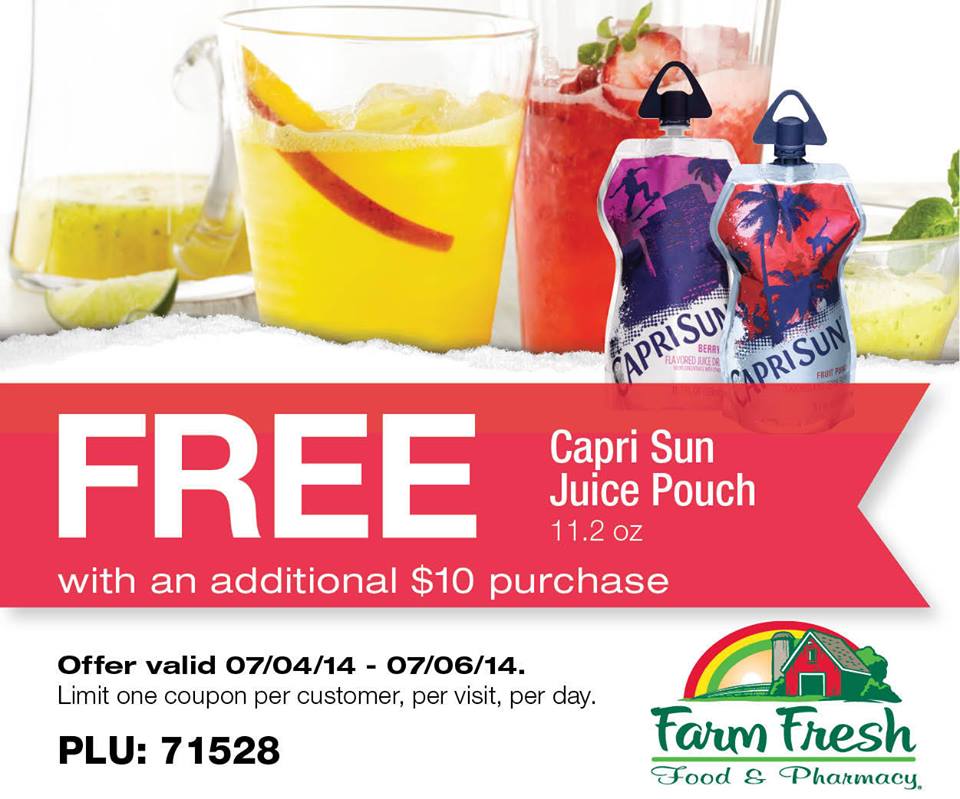 10.  Check out the Farm Fresh Facebook Page on Friday for a FREE product coupon – "Friday Freebie".  These coupons require a $10 purchase and are limited to one offer per person, per visit, per day.  You will need to add the offer to your rewards card to save.   Coupons are valid Friday-Sunday or as stated on the coupon.  You'll find other special offers mentioned on Facebook as well.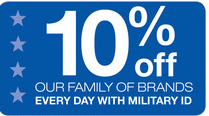 11.  Military members should take advantage of the great Farm Fresh Military Discount Policy – Present a Military ID for 10% off Farm Fresh Family Brand Products everyday!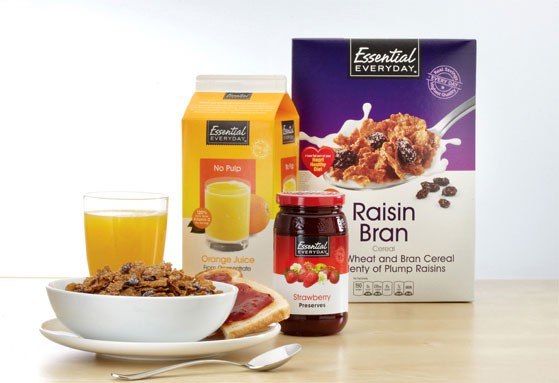 12. Save with store brands over national brands when you don't have a coupon.  I went to a SuperValu event and was able to taste a lot of the store brand items.  I tend to purchase the Wild Harvest brand often when I need an organic product for less.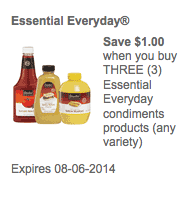 13.  Look for store brand coupons on the Farm Fresh website.  I love being able to save on the store brands such as with the Essential Everyday coupons!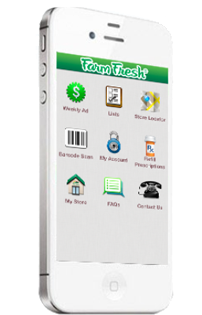 14.  You may also find it beneficial to download the Free Farm Fresh App.  You can get your local ad, create a shopping list and refill prescriptions.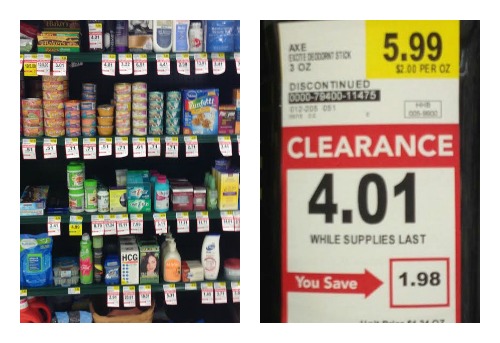 15.  Look for clearance items while shopping.  My local store occasionally puts carts full of markdowns near the register, but I can find markdowns on a endcap everyday. Check the sale tags and you might just find a great deal.  Even better – you can use coupons on markdowns!
16.  Get a rain check if the item you want is out of stock.  Rain checks are issued at customer service if a item is out of stock.  These expire 1 month after issue.  You can even get rain checks when a specific variety is out of stock. If you want honey nut cheerios but they only have original left, you can still get the rain check. If your item is out of stock, get a rain check and hold onto your coupon and use it the next Wednesday (if it's a $1 coupon) to take advantage of the deal!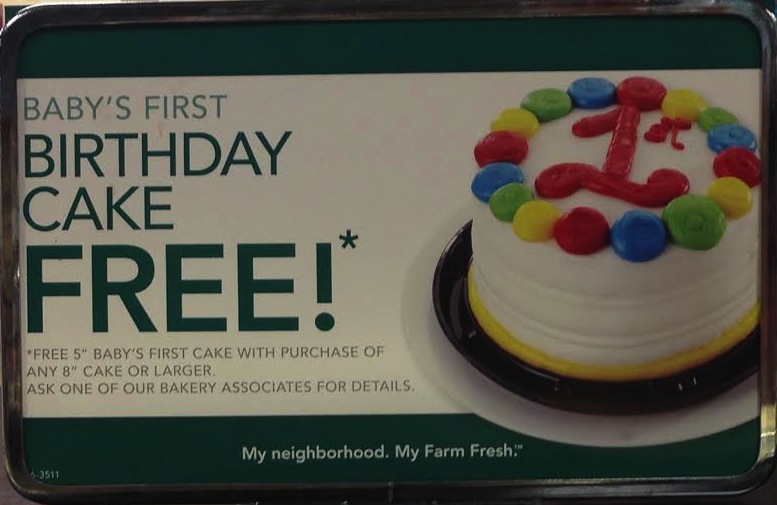 17. FREE Baby's First Birthday Cake is available to help you save on baby's big day.  Get a FREE 5″ baby's first birthday cake with the purchase of an 8″ cake or larger.
18. If you want fresh french bread, Farm Fresh has a guarantee – guaranteed to be hot and fresh at four or it's FREE.
19. Farm Fresh also has a Scan Guarantee. If an item scans higher than the shelf tag or sign, you will receive one like item free, excluding alcohol and tobacco.  Sooo, if the item doesn't ring up at the sale price – it's FREE.  You'll need to take care of this at customer service.  I can't tell you how many times I've had this happen to me on Wednesday.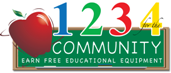 20.  Help local schools through the 123-4 Community program. Save your receipts from any Farm Fresh and give the bottom of the receipts marked with the "123-4 Total" to your favorite school. Schools can redeem these receipts for a wide assortment of educational equipment provided by Farm Fresh.
21.  Bring your reusable shopping bag to save $0.05 per bag everyday!  This small savings can really ad up over time.
22.  Look for meat markdowns to help you save on one of the most expensive aspects of your grocery budget.  Ask your local store when they markdown meat and plan to pop into the store and take a peak at markdowns on that day.  My absolute favorite deal was getting a whole ham for about $11.  It was 70% off and tasted delicious!
*New* 23.  Farm Fresh Rewards Program: Farm Fresh rolled out a new program about a year ago.   The Farm Fresh rewards program allows you to use eCoupons for extra savings.  These coupon can't be stacked with manufacture coupons. Read all about Farm Fresh digital coupons for tips and explanations to guide you through using the program.
You may also want to read about the Farm Fresh Catalina Coupon Policy
See all the Farm Fresh Ad Coupon Matchups before you shop!!
You might also like How to Save Money at Harris Teeter!