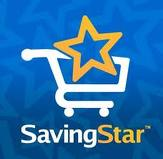 There is a new digital coupon site taking over, Saving Star.
SavingStar is a program that allows you to get additional money back by shopping with your store loyalty card.  It's like e-coupons, but instead of saving right at the register you get your money back through PayPal, a direct deposit, or even a gift card.  They have Amazon!
The SavingStar Grocery Coupons program works on most grocery & drug stores loyalty cards (except Safeway and Publix stores).  You can see a list of stores in my area below.
Ready to get started?  Sign up online, choose your money saving offers "coupons" to add to your store loyalty card, buy your items, then you'll receive the money back in your account.
Plus you can Stack Your Savings!  These offers can be used ON TOP OF paper coupons!
Put your zip code in to see a list of participating stores in your area.  The following stores came up under my zip code:
CVS
Kroger
Farm Fresh
Harris Teeter
Rite Aid
Food Lion
Shoppers Food
They also have an App for Smartphone users, so you can add coupons to your account on the go!
Go here to sign up!
**What about stores that don't have a loyalty card? Albertson's Market, Farm Fresh, Festival Foods, King Kullen, Shoppers, Stater Bros. – Register the "Upromise keytag" available at each store. You do not need to be a Upromise member to get the card or register it with SavingStar.
**I'm a member of Upromise and see that its Grocery eCoupons are powered by SavingStar. Can I participate in both Upromise and SavingStar? Yes. In fact, SavingStar (which was created as an independent company when it was spun out from Upromise) provides the eCoupons for the Upromise service. You may register for both the Upromise and SavingStar services, including registering your same store loyalty cards in each service. However, you may only activate a particular eCoupon in one service during a single promotion period. In the future, you'll see SavingStar powering other rewards services as well.