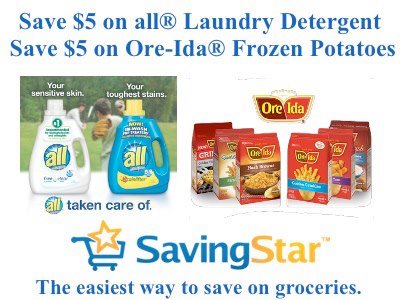 SavingStar: New Coupons on All Laundry Detergent & Ore-Ida!
Head over to SavingStar and check out these two new offers that they have posted.  Save $5 on all® Laundry Detergent and Save $5 on Ore-Ida® Frozen Potatoes.  Both of these offers state "Purchases may be made over multiple shopping trips."
New to SavingStar? It's like e-coupons but instead of saving at the register, you get your money back through PayPal, a direct deposit, or even a gift card. Read the How to Use SavingStar post to get all the info.