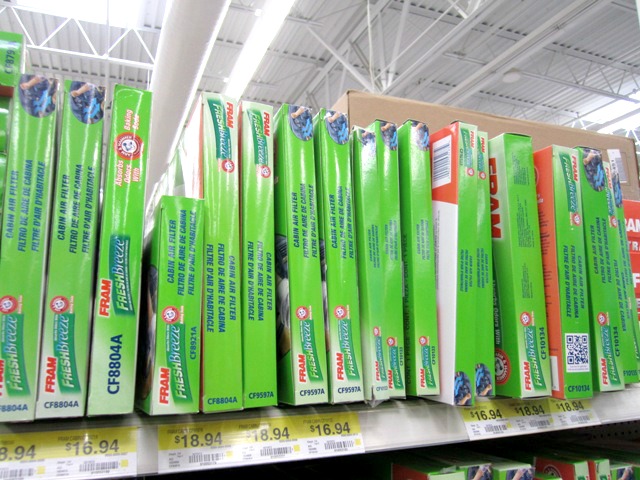 I am a member of the Collective Bias® Social Fabric® Community. This content has been compensated as part of a social shopper insights study for Collective Bias® . and FRAM #cbias #SocialFabric All opinions are 100% my own and may differ from others.

I don't know about your area, but where I live we are drowning in yellow pollen this Spring! It's on our cars, on our patio furniture, and when we leave the windows open its all over our dining room table 🙁 My family, especially my husband, is super sensitive to pollen allergies. I'm not sure if the kiddos have allergies yet or not, but its only a matter of time before you develop them if you live in Hampton Roads.
We also spend a lot of time in the car. I regret that we usually drive with the windows rolled up and the AC on (instead of enjoying this awesome window-down weather we've been having) JUST to avoid inundating ourselves with pollen.
When I was asked to try FRAM Fresh Breeze cabin air filters made with Arm and Hammer baking soda, I jumped at the chance to keep the air we breath a little cleaner.
Before we headed to Walmart to grab our air filter, I checked online at the FRAM Fresh Breeze website to see which filter I needed.

After dinner, we took a family outing to Walmart to purchase our air filter. Once there, we found the automotive section, and finally the air filter section.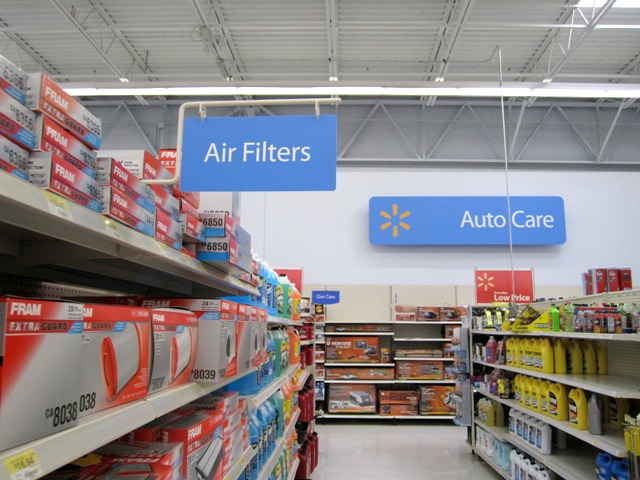 Its hard to miss the Fram FreshBreeze air filters – they are the ones in the bright green boxes!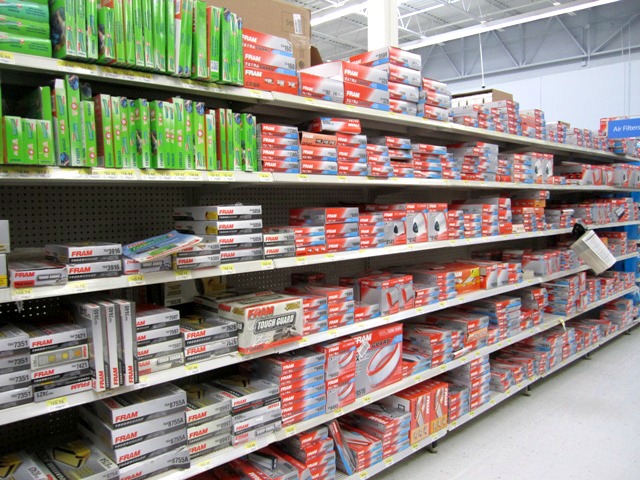 I used the booklet provided on the display end cap to look up the model number we needed again, just in case: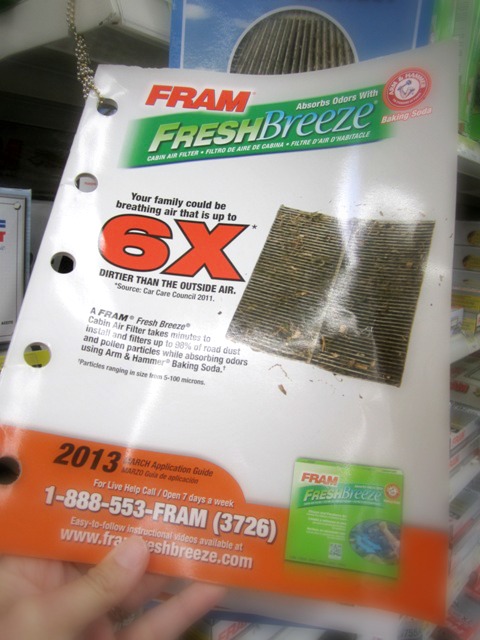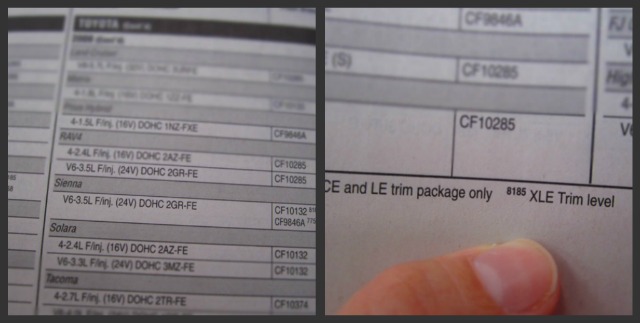 Unfortunately, the filter model we needed was NOT in stock at our Walmart.
After a quick check with a sales associate, we were assured that more were being stocked that evening and that we should come back tomorrow.
However, when we went back the next day there were STILL no air filters on the shelves with our model number. This time I was told they were on a two to three week re-stocking delay. I went to the Customer Service Desk and asked to check if there were any in stock at the next closest Walmart, before I drove three kids halfway across town at lunchtime. I spent the next 20 minutes leaning over the Customer Service Desk shouting into their speaker phone checking two different stores for the item number we needed – but still no luck; it was out of stock everywhere. Apparently its a popular filter! I was just about to give up when I realized that maybe I could get an air filter for my husband's car instead, as he is the most allergy prone out of all of us.
We went back to the air filter section (I was becoming a bit of an expert at this point) and looked up his car's model number . . .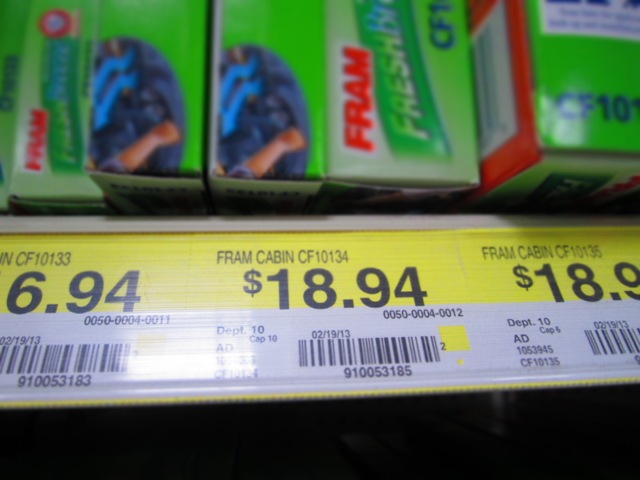 Success!
They had his in stock. See how happy we were!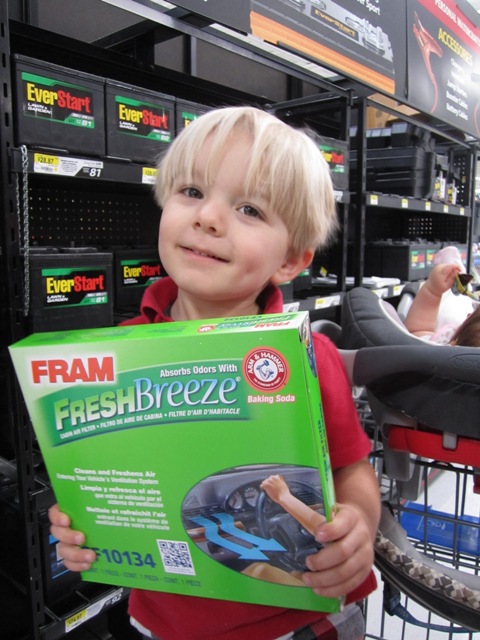 After that I went home and got to work right away. First, I watched the online video that showed me exactly where I needed to install the filter:
After I watched the video, it was really easy to install the FRAM Fresh Breeze cabin air filters made with Arm and Hammer baking soda: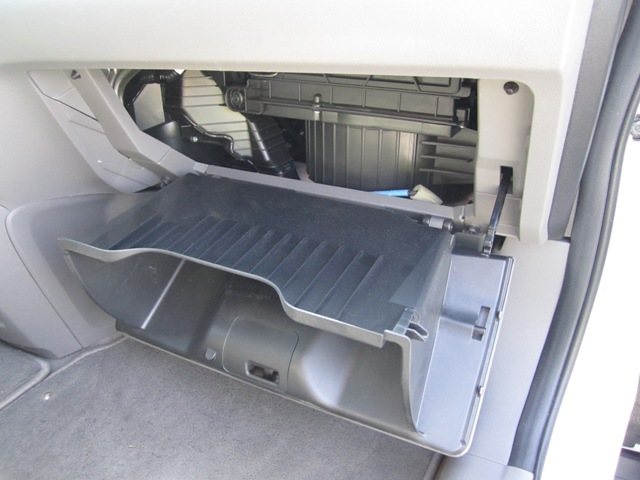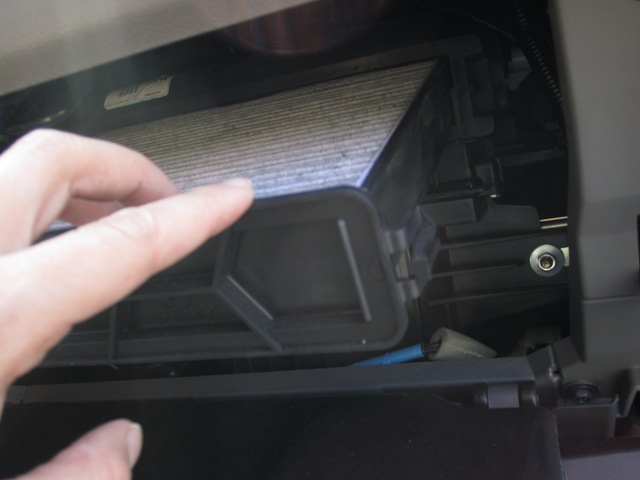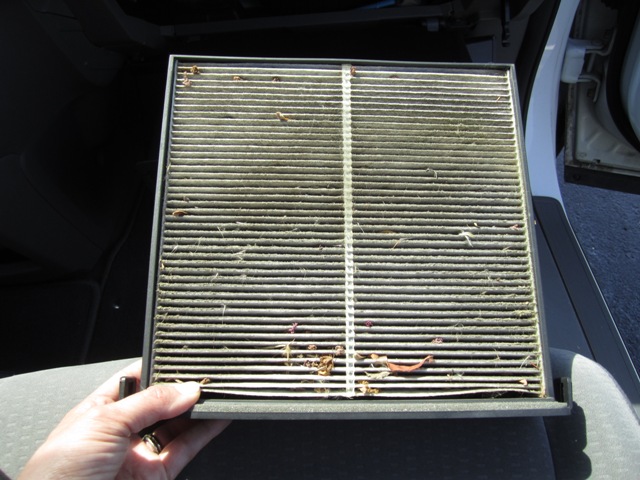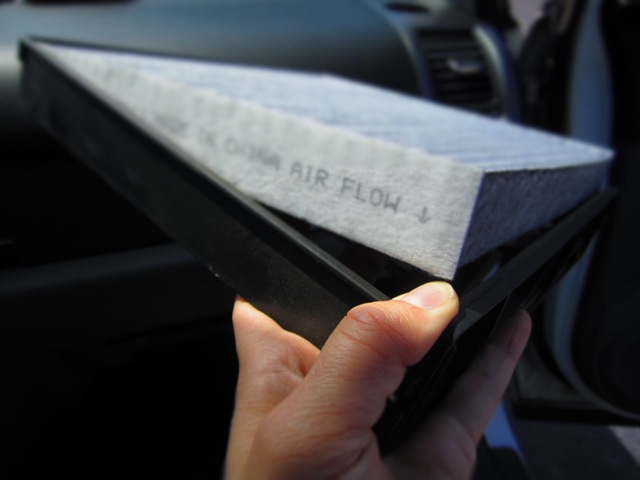 I was AMAZED at how dirty his filter was, and so glad I would know that the air he was breathing would be that much cleaner thanks to Fram FreshBreeze cabin air filters made with Arm and Hammer! I'm also pretty excited to see if the new filter will help with the summertime "stink" that cars sometimes get from sitting in the hot sun, especially when they're perpetually filled with Hubby's sports equipment 🙂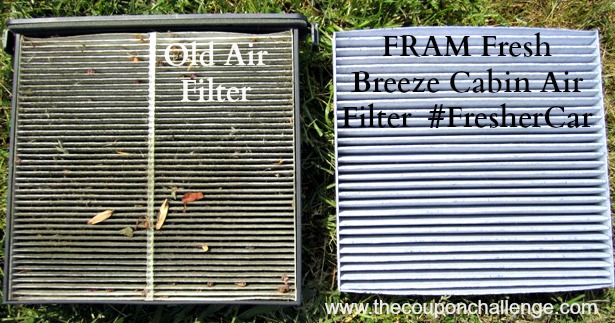 I've added a reminder to my Google Calendar to check the air filter at the end of the summer, just to see how well its working and if we need to change it. I've also added a reminder to go back to Walmart in a few weeks and see the one I need for my car is in stock. I know we'd all appreciate breathing cleaner, fresher air on the go!
You can try the Fram FreshBreeze cabin air filter for yourself and save with a FRAM Rebate.
Make sure to view photos of my #FresherCar #cbias shopping trip on my FRAM FreshBreeze Google Plus Album.
More information about Fram FreshBreeze Cabin Air Filters with Arm & Hammer can be found at: