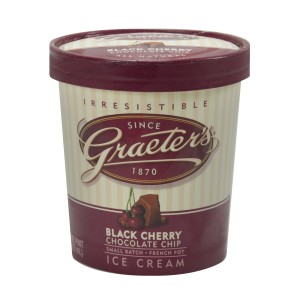 Who is a fan of Graeter's Ice Cream?
I asked this question on Facebook about a month ago and you all raved about Graeter's Ice Cream, so I just had to try it.  Graeter's sent my family Black Cherry Chocolate Chip, Black Raspberry Chip and Chocolate Chip Vanilla ice cream flavors to review.  You all are right, it is amazing ice cream!
Black Cherry Chocolate Chip is the first new Graeter's flavor in 3 years. It's all-natural black cherry ice cream made with heavy cream, pure cane sugar and loaded with fresh black cherries and Graeter's signature dark chocolate chunks.  My husband and kids enjoyed this flavor, but I'm more of a vanilla fan.  My biggest disappointment is that my kids polished off the pint of Chocolate Chip Vanilla when I only had a few bites!!!
The process to make all Graeter's ice cream helps to ensure to delicious flavor –  churned in a French Pot, two gallons at a time, and hand-packed by the pint.  YUM!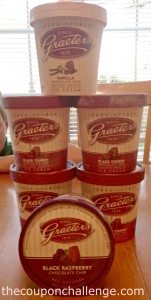 The newest flavor, Black Cherry Chocolate Chip, will be available online at graeters.com on February 1st and hitting grocery stores this spring.
Do you like Graeter's Ice Cream?
Disclosure:  The products listed above were received in exchange for writing this post.  All opinions are 100% my own and may differ from others.