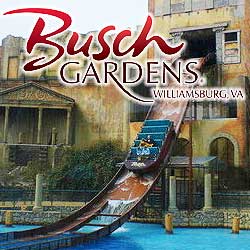 If you are planning to visit Busch Gardens once – head over to Groupon to purchase a single day admission for just $40.
The Deal
$40 for one single-day ticket to Busch Gardens Williamsburg (up to $75 value)
Park opens for the season on Friday, March 27
Children under age 3 admitted free
See the park's hours to plan your visit.
Busch Gardens Williamsburg
Anticipation. That's arguably the most thrilling thing about Griffon, a towering dive coaster and one of the premiere attractions at Busch Gardens Williamsburg. Suspense builds right to the top of its 205-foot hill, which sends riders over a cliff-like 90-degree drop. The coaster hurtles down at 75 miles per hour, before it levels out at a splash zone. Beyond these big-kid rides, Busch Gardens Williamsburg caters to youngsters with its KIDsiderate Attractions, such as the Land of Dragons and Sesame Street Forest of Fun. The latter surrounds little ones in playgrounds and kid-friendly rides, along with chances to meet with Sesame Street characters.
Click HERE to order.
If you are visiting for more than 1 day – your best option is the 2-park Fun card for just $75.