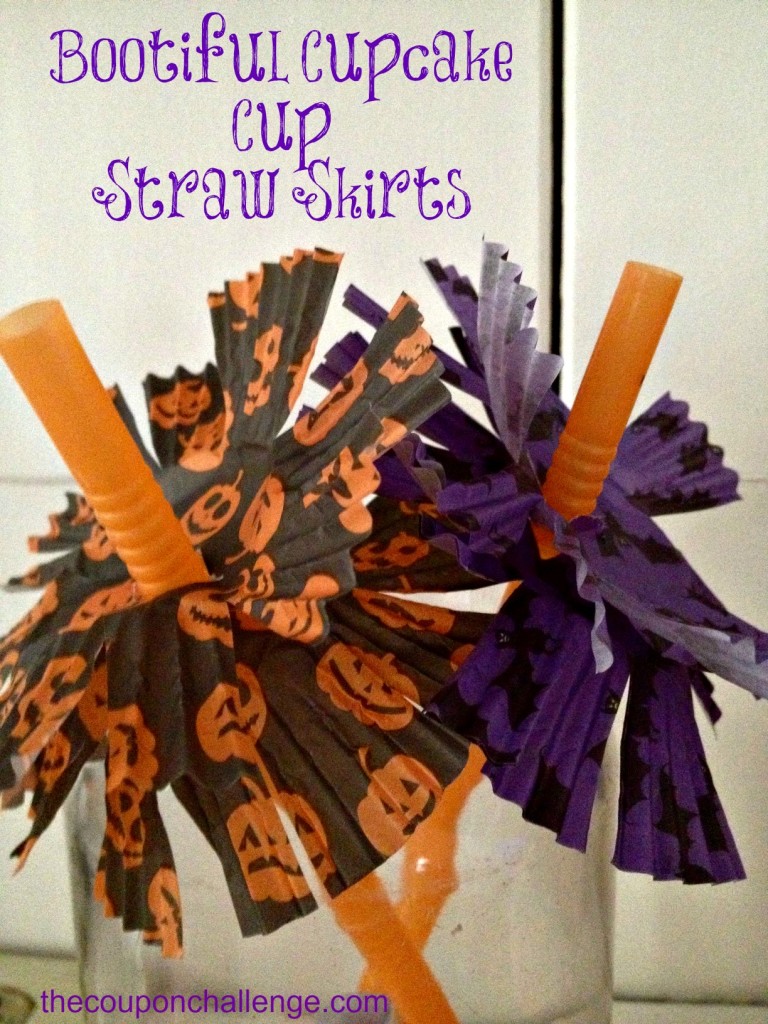 Don't you think a straw is more fun to drink from when it is wearing a festive Halloween skirt? Of course you do!
That is why if you are getting ready for a children's Halloween party or just a fun fall night in with the girls, you must make these Bootiful Cupcake Straw Skirts. These cuties are so fun and easy to make, and just like the rest of our cupcake cup crafts, they are frugal too!
Take a look below at how you can make your very own and sip your way into the Halloween season right!
Supplies Needed:
Assorted cupcake cups
Scissors
Straws
Directions:
1. For the sample picture, we used the Halloween straws available at our dollar tree. We simply removed the plastic pumpkins that were on them so all we had were plain orange straws.
2. Next, poke a hole in each cupcake cup. Right in the center is perfect.  A sharp pencil is really all you need to use to do this. You want to do enough so you can put at least 3 cups on each straw.
3. Now, use your scissors to fringe up the ends of your cupcake cups. This will give them a frilly and festive look. Use your fingers to ruffle them up a bit if you wish and really fluff them out.
4. All you need to do now is slip the skirts over the straws and pull into place. Mid center works out great and looks fantastic!
You can do these in a variety of colors and patterns or keep them all uniform. The choice is totally up to you of course and only limited by your own creativity. Give this simple craft a try and see how easy it is to make your own straw embellishments for your next party or gathering. This is one boo-tiful detail that will be sure to catch your guests eyes!
Total Cost = $2
(assuming you already have scissors)
See more Dollar Store Halloween Crafts!