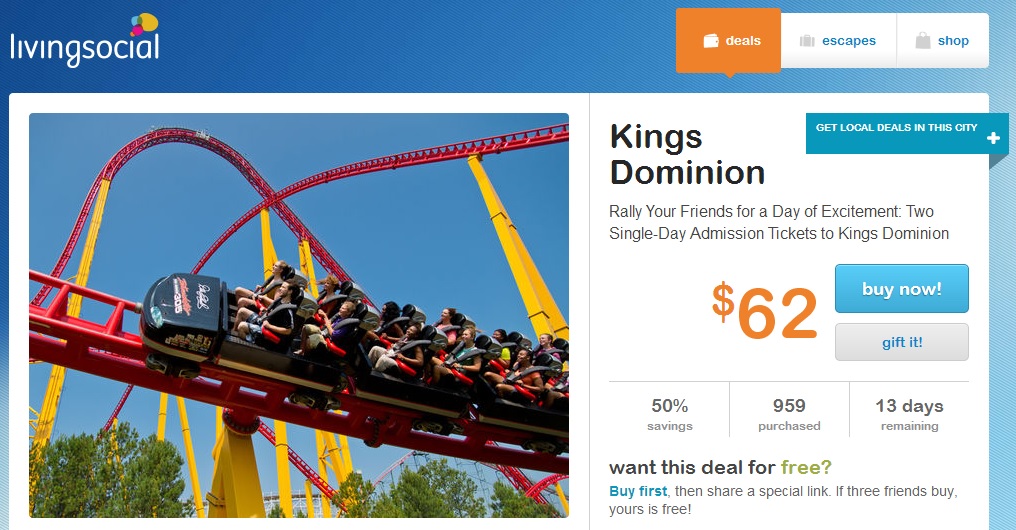 Looking for summer fun? Take the whole family to Kings Dominion for 1/2 off this summer with this LivingSocial Deal!
It's not fear that gets you screaming at the top of your lungs, that makes your adrenaline pump and your heart race. It's the thrill you crave for whizzing down steep hills, speeding through sharp turns, and zooming around upside down loops at up to almost 70 MPH:
• $62 ($123 value) for two single-day admission tickets to Kings Dominion
• Two parks in one: amusement park with thrill rides & family rides + WaterWorks
• Located in Doswell, a short drive from Richmond; take the fam by July 31
Now, This is How You Do Summer
Feed your excitement on classic coasters like the Grizzly (a wooden roller coaster with a double figure eight layout that dashes through dense forest) and the award-winning Rebel Yell. And once you're ready to really challenge your threshold for adventure, buckle in for the Intimidator 305 (the tallest and fastest coaster on the East Coast) and the Flight of Fear (which blasts you into a space-like atmosphere by going from zero to 54 MPH in four seconds). And if you're looking for attractions you can enjoy with the entire family, check out the revamped, bigger, better Planet Snoopy, which covers 14 acres and has eight new rides.
Kings Dominion's Website | Facebook
PAID VALUE EXPIRES ON June 20, 2018
PROMOTIONAL VALUE EXPIRES ON July 31, 2013
The Fine Print
Limit 2 per customer, 2 additional as gifts
Single-day admission tickets valid for either adults or children 3 years and up
$62 paid value can only be applied to Single-Day Admission Tickets to Kings Dominion
Voucher subject to weather conditions
Entire value must be used in a single visit
Voucher must be used by July 31, 2013
Other conditions apply
 Go here to grab your LivingSocial voucher!