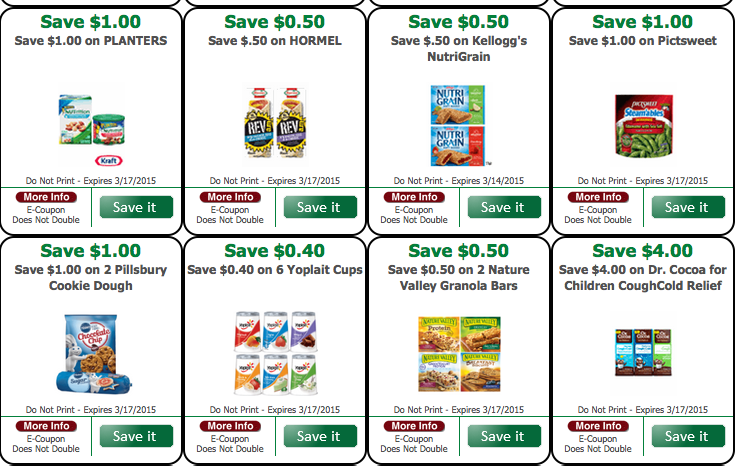 There are new Harris Teeter e-VIC coupons you can load to your card!
Pledge $3.99
Use $1.50/1 Windex, Scrubbing Bubbles, Pledge, or Shout Product; Must Take Quiz and Share
OR $1.00/1 Pledge Furniture Care – February 2015 Parents Magazine (Subscribe Here)
Stack with $0.75/1 e-VIC coupon
Submit for $1.00/1 Pledge, Any variety; Excludes Pledge Multi-Surface Antibacterial Everyday Cleaner – Checkout 51 Rebate
As low as $0.74 after coupons and rebate
Florastor Probiotic Capsules, 20 ct $15.99
Use $3.00/1 Florastor Box, 20 Capsule
Stack with $3/1 e-VIC coupons
Final: $9.99 each after coupons
Tidy Cats Lightweight, 8.5 lb $14.19 (reg. price)
Use $3.00/1 Purina Tidy Cats Lightweight Cat Litter
Stack with $3/1 e-VIC coupon
Final: $8.19 each after coupons
Kellogg's NutriGrain $2.50
Use $0.50/2 Kellogg's Nutri-Grain Bars
Stack with $0.50/2 e-VIC coupon
Final: $2 each after coupons
Hormel Rev am. $1.67
Use $0.50/1 Hormel Rev AM Wrap
Stack with $0.50/1 e-VIC coupon
Final: $0.17 each after coupons
Pillsbury Ready To Bake Cookies $2.69
Use $1.00/2 Pillsbury Refrigerated Cookie Dough – 12-14-14 SS (exp 03/07/15)
Stack with $1/2 e-VIC coupons
Final: $1.69 each after coupons
PLANTERS NUT-rition $5.99
Use $1.00/1 Planters NUT-rition; 7.5 – 18.75 oz
Stack with $1/1 e-VIC coupon
Final: $3.99 each
Dr. Cocoa for Children CoughCold Relief (price unknown)
Use $4.00/1 Dr. Cocoa Children Cough & Cold Relief Product
Stack with $4/1 e-VIC coupon
Pictsweet Deluxe Sides – Edamame with Sea Salt, 6 oz $1
Use $1/2 Pictsweet e-VIC coupon
Final: $0.50 each after coupon
See all your Harris Teeter coupon matchups!
What are e-VIC coupons?
E-VIC Coupons are electronic coupons and promotions available to you through the e-VIC program. When you purchase the qualifying products and when your purchase meets the redemption requirements of an e-VIC Coupon, the savings are automatically applied to your order. Paperless coupons will be redeemed for face value only and are limited to 1 usage per transaction. The great part about e-VIC coupons is that you can "stack" these coupons with paper coupons to save even more! You must register online to participate in the e-VIC program.