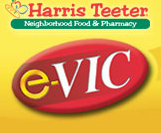 Check your Harris Teeter e-VIC email to see what specials are available to you.  E-VIC specials are specific to each household, so you may receive different deals.
What are e-VIC coupons?
E-VIC Coupons are electronic coupons and promotions available to you through the e-VIC program. When you purchase the qualifying products and when your purchase meets the redemption requirements of an e-VIC Coupon, the savings are automatically applied to your order.  Paperless coupons will be redeemed for face value only and are limited to 1 usage per transaction.  The great part about e-VIC coupons is that you can "stack" these coupons with paper coupons to save even more!  You must register online to participate in the e-VIC program.
The offers below are only the specials with coupon matchups.
Folgers Coffee 27.8-33.9 oz. $5.77 (Limit 2) *Saturday Only*
Use $0.25/1 Folgers Coffee Product, exp. 10/23/12 (RP 09/09/12 R)
Final: $5.27 after doubled coupon
Nestle Toll House Cookies $1.47 (Limit 2)
Use $0.75/1 Nestle Toll House Refrigerated Cookie Dough, exp. 10/31/12 (SS 08/12/12)
Use $0.55/1 Nestle Toll House Birthday Sugar Cookies printable (if included)
Use $1/50/1 Nestle Toll House Cookies printable (enter sweeps)
FREE after doubled coupon!
Gerber 2nd Foods 2-pk $0.88 (Limit 4)
Use $0.75/2 Gerber 2nd Foods printable
Use $0.75/2 Gerber 2nd Foods printable
Use $0.75/2 Gerber 2nd Foods printable
Use $1.10/8 Gerber 2nd Foods printable
Final: $0.13 each wyb 4 after (2) doubled coupons!
Horizon Organic Milk 64 oz. $2.47 (Limit 2)
Use $1/2 Horizon Organic Milk Plus DHA printable
Final: 2/$3.94 after coupon!
Brawny Paper Towels 6-8 rolls $5.97 (limit 2)
Use $1/1 Brawny printable
Use $1/2 Brawny Paper Towel Package, exp. 9/16/12 (RP 08/19/12)
Use $0.75/1 Brawny 2 Paper Towels (Coupons.com Savings Club)
Final: as low as $4.47 each after doubled coupon!
See more Harris Teeter Deals before heading to the store