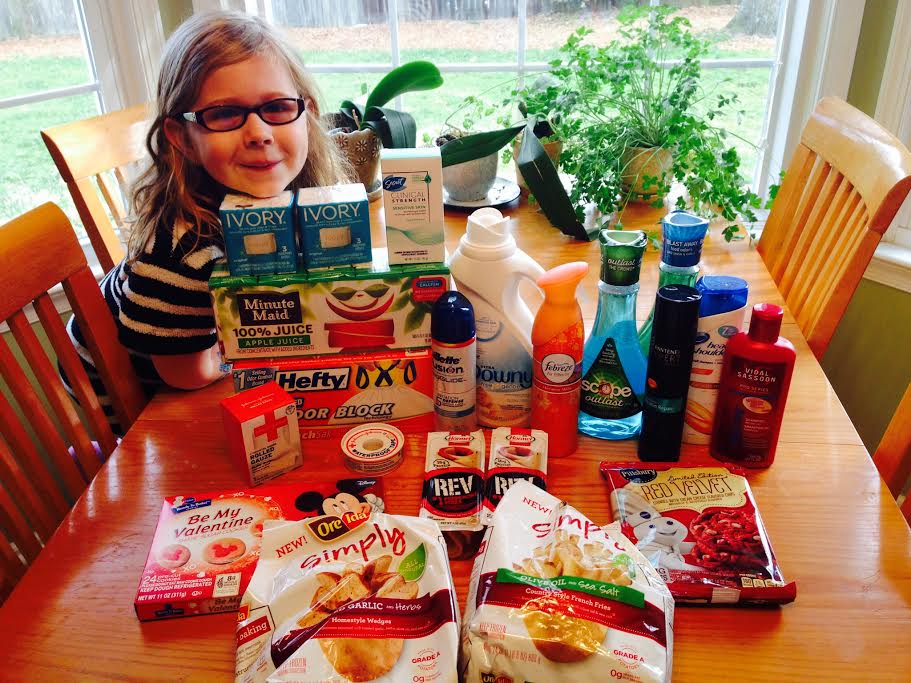 Happy New Year!
I hope you all found your Harris Teeter well stocked for the first day of Super Doubles in 2014!  LuLu and I finally headed up to the store around 9am and were able to pick up everything except Old Orchard juice and Hormel Cure ham.
My receipt is a mess.  I knew my total was high at the store but couldn't figure out why.  I realized in-store that my Secret Clinical e-VIC didn't come off, so I had that one fixed.  Once I got home, I realized they rang up 3 Ore-Ida Simply (I bought 2) and 2 more e-VIC coupons didn't come off (Ivory and Downy).  I'll head back up for my $5.79 refund later today.
See all the Harris Teeter Super Doubles matchups HERE
Hefty Kitchen Bags $6.49 (expensive but I needed them)
Minute Maid Juice $1.99
2 Ivory Soap $0.75 each (should be)
Downy $1.45 (should be) I wanted free & clear-others are free after coupons
Secret Clinical $0.99
Head & Shoulders $1.99
Pantene Expert $0.99
Ore-Ida Simply $2.29 each (plus submit for $0.75 ibotta)
2 Pillsubry Cookies Dough $0.50 each
2 Hormel Rev $0.99 each
J&J tape $1.89
J&J gauze $0.89
Febreze Air Effects FREE
2 Scope Rinse FREE
Vidal Sassoon Shampoo FREE
Gillette Fusion Shave Gel FREE
Total Should be $25.75 + tax
Total Saving Should be $73.37
Definitely not close to my best trip, but I was able to get a few things we wanted/needed.
How did you do?