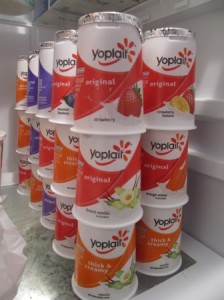 Food Lion is running an instant saving promo called The Big Deal.
The savings are applied instantly and you can mix or match:
Buy 10, Get $5 Off
Buy 20, Get $10 Off
Buy 30, Get $15 Off
When I saw this deal being posted around the coupon blog internet last night you better BELIEVE I loaded two kids into the car to go out and try it. With the coupons I had available, We got 30 Yoplait yogurt cups for around $2!
When I woke up this morning, I saw that Target had released some new Yoplait coupons – which is making that deal even sweeter – check it out!
Buy: 30 Yoplait Yogurt Cups – $.60/each
Total: $18-$15 BIG DEAL Instant Promo = $3
Use: (3) $1/10 Yoplait Originals (Excludes Multipacks) (you'll need 2 computers)
OOP: FREE!
You'll just end up paying tax, I assume. If you do this deal today, come back and let us know how it goes. And save me some Original Vanilla, my favorite!
You could also use any of these others coupons to make a great deal too:
40¢/6 Yoplait Yogurt Cups (printable)
40¢/6 Yoplait Yogurt Cups (SS 2/24)
***Limit 30 promotional items per transaction!!!