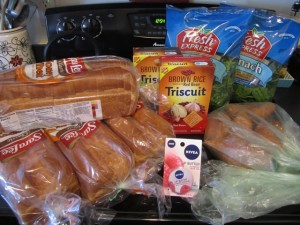 This was my shopping trip at Farm Fresh this morning:
(4) Sara Lee Honey Wheat Bread ($1/2 Sara Lee Facebook)
(2) Fresh Express Spinach ($1/1 Fresh Express *no longer available*)
(2) Brown Rice Triscuits ($1/1 Brown Rice Triscuit)
(1) Nivea Lip Balm (FREE product coupon came in the mail)
3.25lbs Sweet Potatos
Total OOP: $2.39!
(I used a $2 catalina from the Food Lion Yoplait deal too. It prints when you but 20 Yoplait cups!)
Happy Shopping!