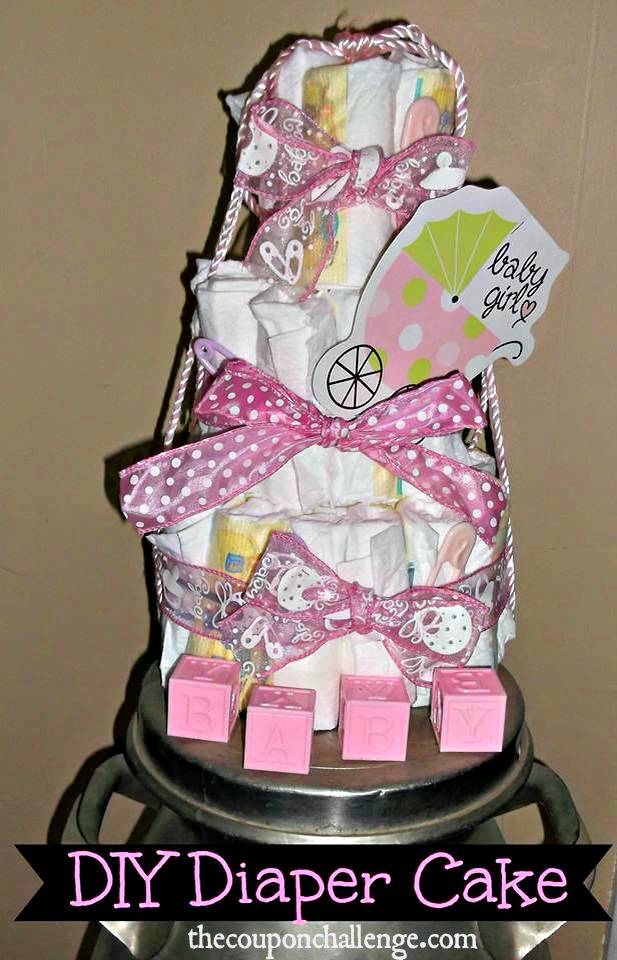 This diaper cake is a gorgeous and unique way of giving a gift at a baby shower.  It can also be used as a centerpiece for the shower or in the baby's room! I decided to make a dollar store version so that it would be a cheaper alternative to making the cake for all your soon to be mommy friends!
Everything for this cake was bought at the dollar store except for the actual diapers but the dollar store does sell diapers! I just got the diapers for free at CVS using Extra Bucks! Let's get started on how to do this!
How to Make a Girl Diaper Cake:
Money spent: $5
Time spent: 45 Minutes
Supplies: Diapers, baby decorations, and ribbon
Procedure:
This first step is the most time consuming of the whole project! You need to roll all of your diapers up, so you just roll the diaper up and secure it with either ribbon tied around it or a rubber band (I like small clear plastic hair bands)!
Once all your diapers are rolled up, start arranging them (use a baby bottle in the middle to secure your start.) Once you have all the diapers necessary for the bottom tier, you will need to tie your ribbon around the whole layer. This will need to be your biggest layer and there isn't a certain number of diapers you need to use.
Next, you will need to make your second layer. Just repeat the same steps as before as well as for the top layer!
Finally, the fun part! Adding decorations! I used pink thicker ribbon to hide my other ribbons used to tie each layer together! I added pink and purple clothes pins and a baby carriage sign! I just simply stuck the items into the ribbon in order for it to stay!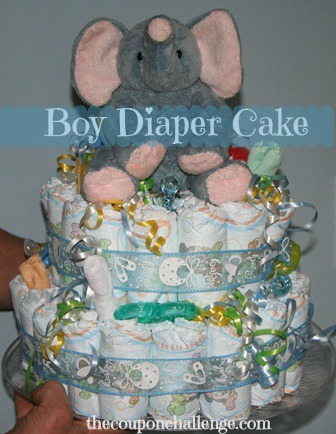 You can easily create a baby girl or baby boy cake by changing the decorations as shown above!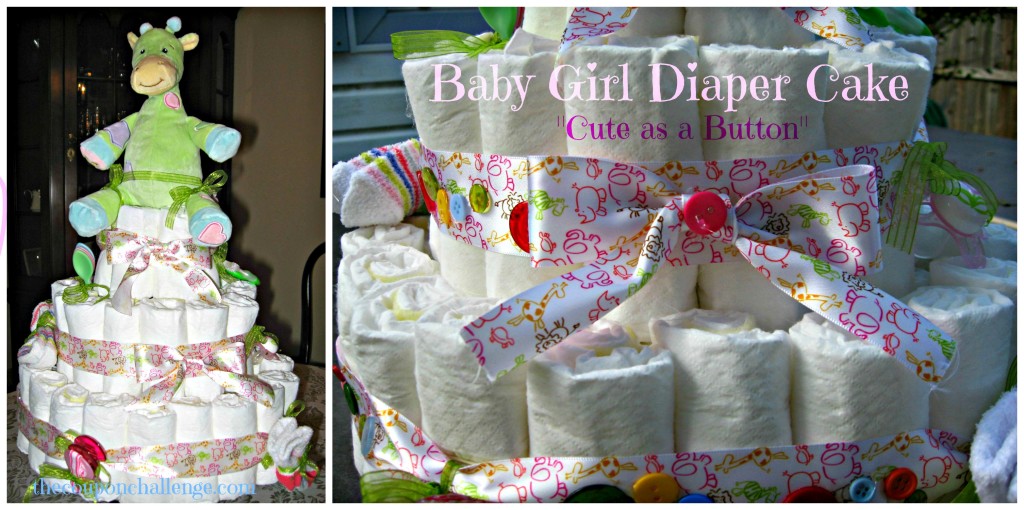 Another cute idea is to create a "cute as a button" diaper cake with colorful buttons glued onto ribbon. There are so many variations to making your cake that are only limited by your imagination!
I hope you all enjoy making your diaper cakes for that special mommy-to-be with my How to Make a Girl Diaper Cake tutorial.
Share your ideas on how to make a girl diaper cake!