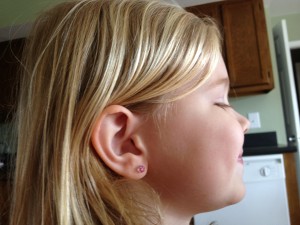 Update 8/19:
CHKD ENT Norfolk is still doing ear piercing. Click here for phone numbers
I contacted entltd.com also affiliated with CHKD and they don't do ear piercings.
My experience below is from September 2014:
I've been putting off getting my daughters ears pierced for years.  I'm one of those super paranoid mommy's and couldn't bear the thought of taking my daughter to a random kid at the mall to get her ears pierced.  I realize that it's been done for years (I even had my ears pierced at the mall), but it still didn't ease my anxiety.
When a friend told me the Ear Nose and Throat doctor (ENT) at CHKD did ear piercing, I finally conceded to let LuLu get her ears pierced.  The price was extremely reasonable, just $35 total!    The cheapest price I could find at the mall was $19.50.
Why I chose to get my daughters ears pierced at CHKD:
Medical grade plastic for the earrings
Topical numbing ointment applied to earlobe to reduce pain
Sterile medical office
Experienced Nurse Practitioner performed the actual piercing
The nursing staff and nurse practitioner worked well with LuLu to make her feel at ease and reduce her anxiety.  Her ears were prepared to reduce to risk of infection and to allow the piercing to be virtually pain free.
When it was time to actually pierce her ears, the Nurse Practitioner took her time making sure LuLu's piercing was perfect and that we were satisfied with the placement.
The process was much longer than I had expected (about an 1.5 hours), but it was completely worth the extra effort.  If you're looking to get your child's ears pierced, I would highly recommend taking her to CHKD.
If you're not in my area, talk with your child's pediatrician.  I'm told some Pediatricians offices offer ear piercing.  Even if yours doesn't, it is likely they will be able to give you a recommendation.
The ear piercing at CHDK does require an appointment.  You can find the phone number and locations on the CHKD website. 
Please note that I'm told you can't get ears re-pierced.  This is for first-time piercings only.
You do not need to be a patient of CHKD, but are required to complete patient paperwork and consent forms.  No insurance is accepted for the the piercing.
*Stacey mentioned another option on The Coupon Challenge Facebook page that you should read.
Make sure to view more posts on saving in Hampton Roads!