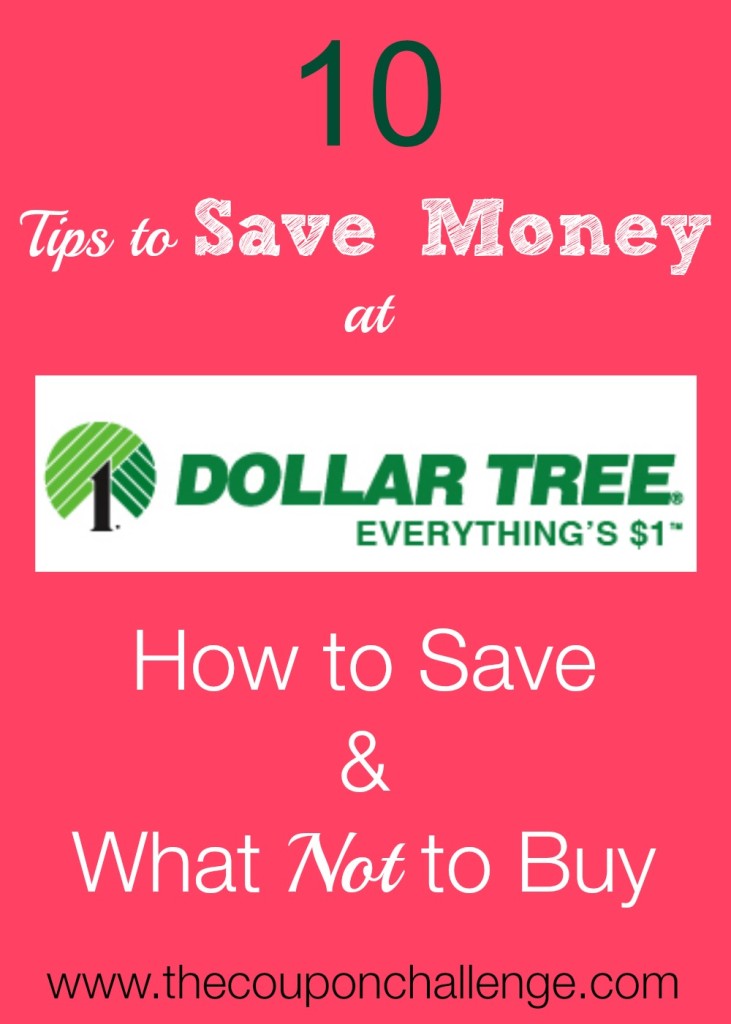 Dollar Tree offers shoppers a great value on everyday products from personal hygiene and holiday decorations to food and much more.  All for just $1!!   With thousands of stores located all 48 contiguous states, you are sure to find a store near you.
The problem?  There are so many products available;  how do you know you are getting the best value for your dollar?
How to Save Money at Dollar Tree:
1. Know your price points for products:  Not everything at Dollar Tree is a good deal.  Consider the unit price and quality before making a purchase.  Often products like Ajax dish soap are $1 at Dollar Tree but only $0.97 at Walmart.  Compare prices before you shop.
What should you buy?  Cards, party supplies, gift wrap, serving dishes (perfect for taking to functions and just leaving them), kid craft items, coloring books, storage baskets and holiday decor.
What shouldn't you buy?  Kitchen utensils, foil and other storage bags, vitamins, soda, candy/chewing gum, school supplies (cheaper at other stores during back-to-school sales), canned pet food and all things with a plug.
2. Shop multiple locations: Each Dollar Tree will have different stock. Browse the stores in your area to see which has the best selection of items you purchase most. I tend to shop at the largest stores, but that doesn't mean you aren't missing out on deals at the small stores.  You never know what hidden treasure will be around the next corner!
3. Shop online:  Did you know that you can shop online at the Dollar Tree?  A lot of products will quality for FREE in-store pickup which can save you even more.  However, you need to be aware that online items require you to purchase in bulk.  The number in a case will vary by the product.  Coupons are also occasionally advertised for online purchases.
4. Bonus Buys & Closeouts:  Look online for Bonus Buys & Closeouts, found under the "Xtreme Values" tab.  Bonus Buy products come in larger sizes, still for just $1.  Some of the items in the Closeout section such as vases would be great for crafters.  Again, you will need to purchase by the case.
5. No refunds: Dollar Tree does not offer refunds on products, however, they will allow exchanges of unopened items with a receipt.  If you purchase extra plates for your child's class party, you can exchange them for another product but won't get your money back.
6. Use coupons:  Dollar Tree does accept manufacture coupons! Pay careful attention to size restrictions and exclusions when using coupons at Dollar Tree, and keep a copy of the Dollar Tree Coupon Policy with you when shopping.  Major policy notes include:
– Limit of 2 printable coupons per transaction.  This isn't "like" coupons.  This is all printable coupons.
– Coupons cannot be redeemed for more than the purchase price of the item.  Basically, Dollar Tree won't give overage.
– No competitors coupons accepted.
– Does not accept Free Product coupons – does accept Buy 1, Get 1 Free coupons.
– Limit of 4 "Like" coupons per household per day.
7. Join the Value Seekers Club & sign-up for emails:  Join the Value Seekers Club for deals, early notice of specials, contests and craft inspiration. Dollar Tree also has multiple options for email subscribers.  You can choose which type of offers you want to see from sales to party supplies.

8. Avoid (or use caution) at Dollar Tree "Deals" online:  A special section of the Dollar Tree website is "Deals, a Dollar Tree Company".  There are additional bulk items listed, but not all items are $1.  You definitely need to watch your unit price here.  Most items I found were more expensive than shopping elsewhere. Example:  13 oz Oreo's are $3 at Deals but $2.98 for a 14.3 oz package at Walmart!  You just purchased a smaller package for more money!
Gatorade is another example: pay $2 per 64 oz bottle at Deals, but hese often go on sale for $0.50 – $1 at other retailers. I'll hold out and pay a quarter.
It appears the flowers and other craft supplies are a nice deal when compared to Michaels.  However, I can't attest to the quality as I don't have a crafty bone in my body.
9. Shop the local ad:  Dollar Tree puts out a sales ad that can be found in the newspaper or online. This ad will give you an idea of what products you can find at local stores.  You can then flip through your coupon binder to see if you have a coupon to match.
10. Use coupon matchups:  Coupon matchups for Dollar Tree are posted weekly.  This list is to act as a guide for potential deals.  Not all stores have the same stock, so you might not find all the deals listed in the matchups.  However, it's great to know what items others are finding at their stores, so you can keep your eye out for a deal.
These are just 10 ways to save money at the Dollar Tree.  What are your tips to save?
Don't miss How to Save Money at Dollar General!