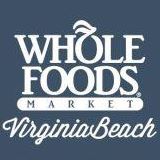 I picked up the new Meals for Four Under $15 Recipe Booklet which is part of the Health Starts Here Program when I did my monthly Whole Foods shopping in Virginia Beach.
The Meals for Four Under $15 Recipe Booklet is only found in-store, and I would highly recommend picking it up.  There are great recipes for every day of the week already priced to be under $15.  I already had some of the ingredients on-hand from matching sales with coupons, so I was able to make these healthy and delicious recipes for even less!!
Last week I made 2 recipes from the booklet:  Pineapple Shrimp Lettuce Wraps and Carrot & Zucchini Bread Oatmeal.  I'm also looking forward to trying a Quinoa recipe that I found on the end-cap along with the Meals for Four Under $15 Recipe Booklet.
Pineapple Shrimp Lettuce Wraps
Ingredients:
1 bag Whole Foods Market China Cuisine Shrimp Vegetable Stir-Fry
1 bag 365 Everyday Frozen Brown Rice
1 Tbsp grated Ginger
1 Tbsp grated garlic
2 Tbsp 365 Everyday Value Low- Sodium Soy Sauce
1/3 cup Rice Wine Vinegar
1 can 365 Everyday Value Pineapple Chunks
2 Tbsp scallions, chopped or substitute with Crushed Red Pepper
1 head iceberg lettuce or Bib lettuce
1/2 cup Peanuts, crushed
Directions:
Defrost frozen shrimp and Asian vegetables, as well as frozen brown rice, according to package directions.  Grate ginger and garlic and whisk together with soy sauce, vinegar, pineapple juice from can, and scallions.  In a pan, add pineapple chunks and 2 Tbsp of sauce; cook until slightly brown.  Add the defrosted brown rice, shrimp and veggies.  Pour 1/2 of the remaining sauce into the pan and toss to combine. Tear lettuce into individual leaves and fill with the rice, shrimp and veggie mixture.  Top with crushed peanuts and extra sauce.  Roll and enjoy.  Serves 4.
Hubby and the kids decided we needed more shrimp in the recipe next time.  We all liked that the pineapple gave the dish a nice sweet flavor.
*Unfortunately, my pictures turned out grainy.  I'm not sure what happened with my camera that night.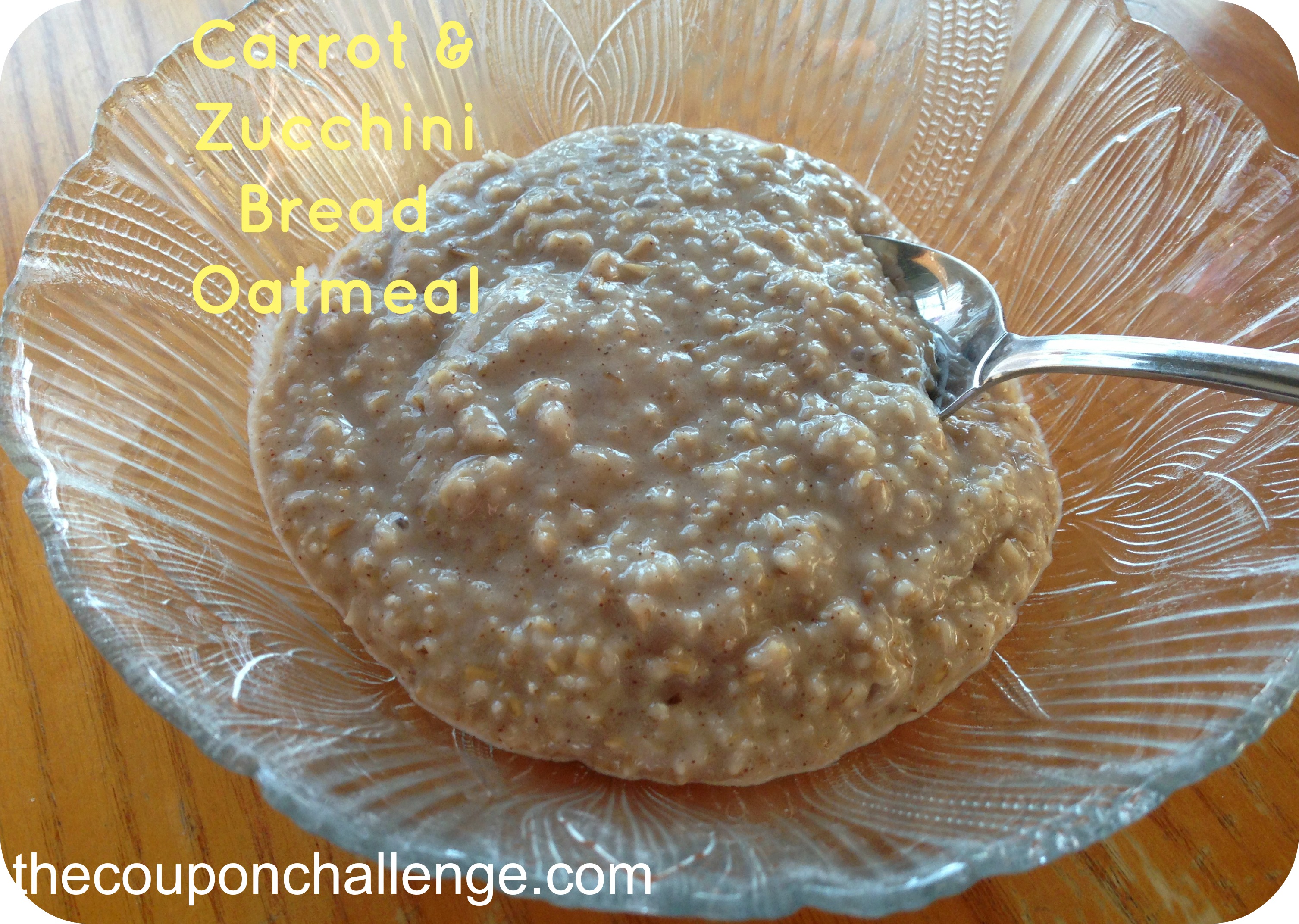 Carrot & Zucchini Bread Oatmeal
Ingredients:
1 cup 365 Everyday Value Steel-Cut Oats
3 cups 365 Everyday Value unsweetened vanilla almond milk
2 small carrots, grated
1/2 small zucchini, grated
4 Tbsp Raisins
2 pinches of Nutmeg
2 pinches of Cinnamon
1/2 cup toasted Walnuts
Touch of Honey, to taste
Banana Slices
Directions:
Combine steel-cut oats, almond milk, carrots,zucchini, raisins, nutmeg, cinnamon, walnuts and honey in a medium-size pot; simmer until liquid is adsorbed and oats are fully cooked about 20-25 minutes.  Tops with banana slices.  Serves 4.
When I went to make the oatmeal, I realized I had run out of my Whole Foods Steel-cut Oats so I substituted Irish Oats.  The vanilla flavor from the almond milk gave the dish a nice flavor that was different from other oatmeal's I'd made.  Sneaking in the carrots and zucchini was also a huge plus since the kiddos had no clue they were getting veggies 🙂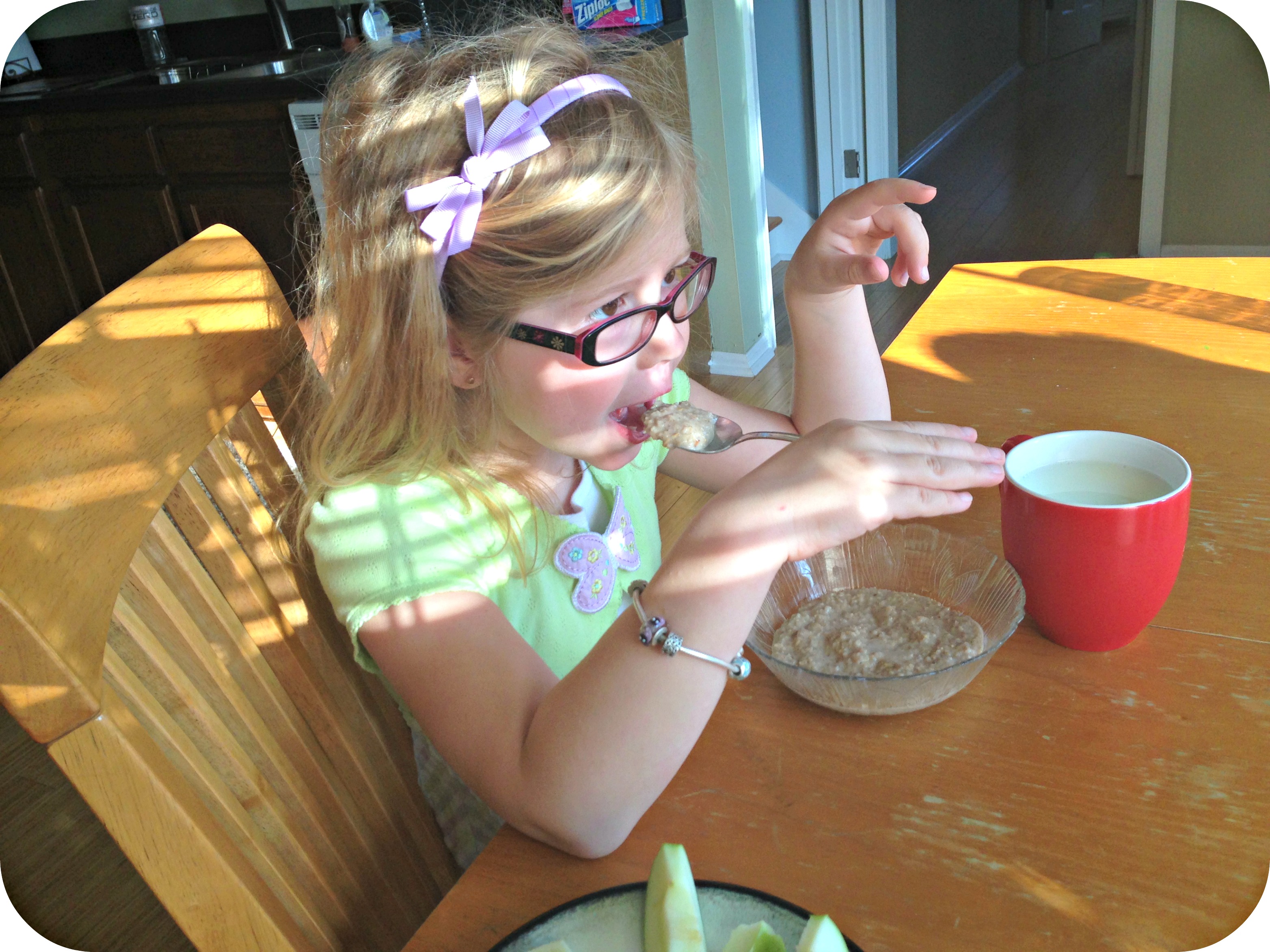 Make sure to take a look at the other fabulous Whole Foods Market recipes I've made – Vegetable Penne with Sausage and Balsamic Vinegar Recipe & Mole Chili.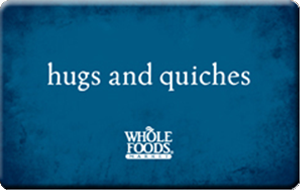 The Giveaway
Whole Foods Market is offering (2) $25 Whole Foods Gift Cards to help you eat healthy!
The winners will be selected at random.  The winners will be contacted via email after the close of the giveaway. The winners will have 48 hours to respond to my email or a new winner will be selected. Entry for this giveaway will close on April 30th at 8pm EST.
**Leave a separate comment for each entry method!  Mandatory entry MUST be completed.
Mandatory Entry Method:
Leave a comment here telling me your favorite healthy go-to snack.
Extra Entry Methods:

– Subscribe via email feed (must be verified). Leave a comment letting me know you subscribe.
– Blog, post in your facebook status, or tweet about this giveaway. Leave a comment telling me how you've spread the word about the Whole Foods Market $25 Gift Card Giveaway. (You may choose 1 or all 3 methods)

Tweet: Win a $25 Whole Foods Gift Card & see tasty, healthy recipes @CouponChallenge @WholeFoodsVAB bit.ly/17eBHPE
Disclosure:  I received a Whole Foods Gift Card to purchase ingredients for the recipes above.  No other compensation was received.  All opinions are 100% my own and may differ from others.
All recipes are from Whole Foods Market Meals for Four Under $15 Recipe Booklet.