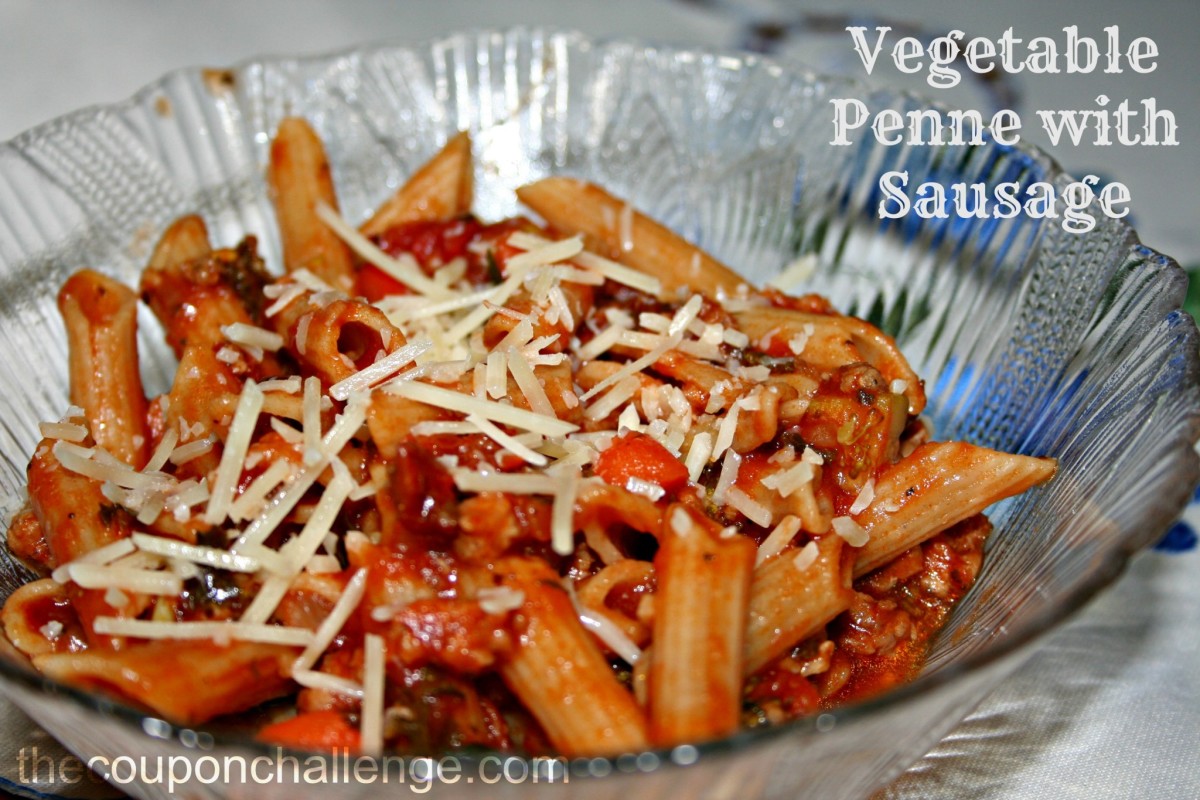 This colorful, healthy dish is packed full of fresh veggies and great flavor.  My entire family enjoyed this dish (even my pasta hating husband!)  Other than vegetable chopping being time consuming, it's an easy dish to make.  We have plenty of leftovers for lunch plus I plan to freeze a portion for another dinner.
Ingredients:
16 oz whole wheat penne pasta, cooked and drained
1/2 cup diced white onion
2 cloves garlic, minced
1/2 cup low-sodium vegetable broth, divided
1/4 pound turkey sausage, removed from casing
1 cup broccoli florets
1/2 cup diced carrots
1/2 cup finely chopped kale
1/2 cup diced zucchini
1/4 cup pitted olives, chopped
2 (15 ounce) cans no-salt-added tomato sauce
1 (15 ounce) can no-salt-added crushed tomatoes
2 tablespoons balsamic vinegar
3 tablespoons finely chopped fresh basil
3 tablespoons chopped fresh parsley
2 tablespoons finely chopped fresh oregano
Cracked black pepper, to taste
1/2 teaspoon crushed red pepper flakes (optional)
1/2 teaspoon fine sea salt (optional)
Shredded Cheese (optional)*
Directions:
Heat a large high-sided skillet over medium heat until hot.
Add onion and garlic and cook 2 to 3 minutes or until beginning to stick to skillet.
Stir in ¼ cup broth and continue to cook about 3 minutes or until onion is translucent.
Add sausage and cook 4 to 5 minutes or until cooked through, breaking up with side of spatula.
Stir in remaining broth, broccoli, carrots, kale, zucchini and olives and cook 3 to 4 minutes, stirring occasionally.
Reduce heat to medium-low and stir in tomato sauce, crushed tomatoes and vinegar. Simmer 10 minutes or until vegetables are tender, stirring frequently.
Add basil, parsley, oregano and pepper.
Remove from heat and toss with cooked pasta and crushed red pepper and salt, if using.
* I added a bit of shredded Parmesan cheese before serving.  We love cheese so this was a perfect compliment for my family.  I also omitted the olives (we don't like them) and added the crushed red pepper and salt when I added the other spices.   Further, I purchased Whole Foods fresh Garlic and Basil Pork Sausage since it was on sale.  It added fabulous flavor to the dish.
Make it Budget Friendly:
Whole Wheat pasta can often be purchased on sale free or cheap after coupon
Keep garlic, onions, vegetable stock, canned tomatoes, basalmic vinegar and spices on hand and make sure to stock up when on sale – don't stockpile onions and garlic 🙂
Place fresh parsley in a cup of water in the fridge so it lasts longer
Watch sales to purchase sausage.  Fresh is cheaper (and tastes better) than pre-packaged.
Purchase vegetables in season/when on sale.  You can use frozen vegetables in this dish if off season.  I like to keep Kale in the freezer to use all year.  Kale is a nutrient rich vegetable that is underutilized.
Nutritional Info (directly from Whole Foods website):
Per Serving:330 calories (45 from fat), 5g total fat, 0.5g saturated fat, 10mg cholesterol, 430mg sodium, 58g carbohydrate (8g dietary fiber, 7g sugar), 13g protein
Recipe courtesy of Whole Foods Market part of the Health Starts Here Program!